06.04.2022
Euromaidan SOS and the Ukrainian Bar Association submitted to the OSCE ODIHR a joint information package on Russia's war crimes in Ukraine under the OSCE Moscow Mechanism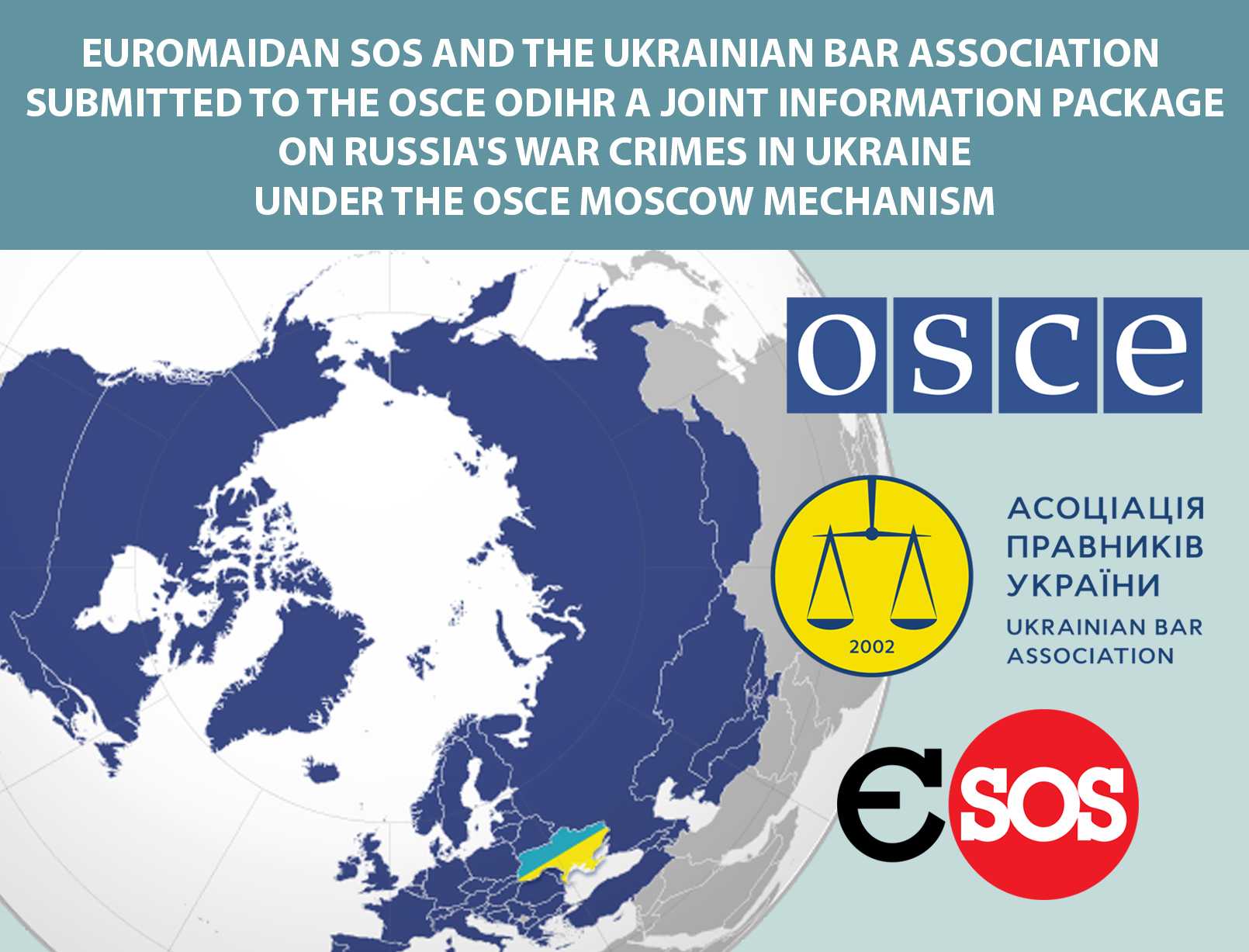 When a new phase of Russia's war against Ukraine began on February 24, 2022, one of Ukraine's most powerful volunteer initiatives, Euromaidan SOS, resumed work in full.
One of the directions of our work was the mobilization of volunteers to collect war crimes evidence of the Russian Federation army.
Our information package to the OSCE contains evidence on premeditated killings, torture or inhuman treatment; premeditated attacks on civilian objects: cities, villages, houses or buildings, deliberate strikes on houses intended for religious, educational, artistic, scientific or charitable purposes, historical monuments, hospitals and places of concentration of the sick and wounded; coercion the citizens of the opposite side to take part in military actions against their own country, intentionally committing acts that expose the civilian population to starvation, as a means of waging war by depriving it of its necessities for survival, including deliberately obstructing assistance as established in the Geneva Conventions in Donetsk, Dnipropetrovsk, Zaporizhia, Kyiv, Luhansk, Sumy, Kharkiv, Kherson, Chernihiv regions.
"The collected data indicate the systemic and large-scale nature of war crimes. Among them are unique testimonies collected by Euromaidan SOS volunteers. They describe brutal and cruel acts: killings of civilians, shooting of cars with people and children trying to evacuate, taking hundreds of people hostage and forcing them to live in inhumane conditions for more than a month, shelling of houses, cultural monuments, civilian objects and critical infrastructure" – Maria Tsypiaschchuk, lawyer and teacher.
The Moscow Mechanism is an established procedure within the OSCE that allows the deployment of a short-term international mission to establish the facts that address a specific human rights issue within the OSCE region.
"The whole world saw that the war Russia is now aggressively waging against Ukraine is not limited to purely military targets. Russia's military command and top political leadership openly demonstrate that military actions are aimed at destroying Ukraine, its culture, and population that always sought peace. All these war crimes will certainly be investigated, and there is no doubt that accountability will surely come" – Oleksii Koltok, judicial practice adviser.
It should be noted that since March 2022, the 45 OSCE participating States, in particular Ukraine, have implemented the OSCE Moscow Mechanism on Russian invasion. According to the decision of the OSCE participating States, the Moscow Mechanism was activated to "study the impact on human rights and humanitarian consequences of the Russian invasion and the war supported by Belarus in Ukraine, within internationally recognized borders and territorial waters of Ukraine."
The group of international experts should implement the following tasks:
establishing the facts and circumstances related to possible violations of the OSCE commitments, violations and abuse of international human rights law and international humanitarian law;
establishing the facts and circumstances of possible war crimes and crimes against humanity, in particular intentional and deliberate attacks on civilians and civilian infrastructure; collection, consolidation and analysis of information to present it within the framework of appropriate prosecution mechanisms – national, regional and international courts or tribunals that have or will have jurisdiction over these matters in the future.
Established under the Moscow Mechanism mission began work on March 15, 2022.
On the submission to the OSCE worked: Oleksiy Koltok, Margarita Koltok, Elyzaveta Herasymchuk, Maria Tsypiaschchuk, Vladyslav Yegorov, Veronika Gretsa, Yuriy Kabanov, Yuriy Bilous, Dmytro Gladky, Yulia Topal, Mykhailo Protsaylo, Natalia Chop, Oleksandra Nessonova, Vydai Tatiana.