06.09.2022
For more than three months, relatives have no information about Vyacheslav Zavalny from Brovary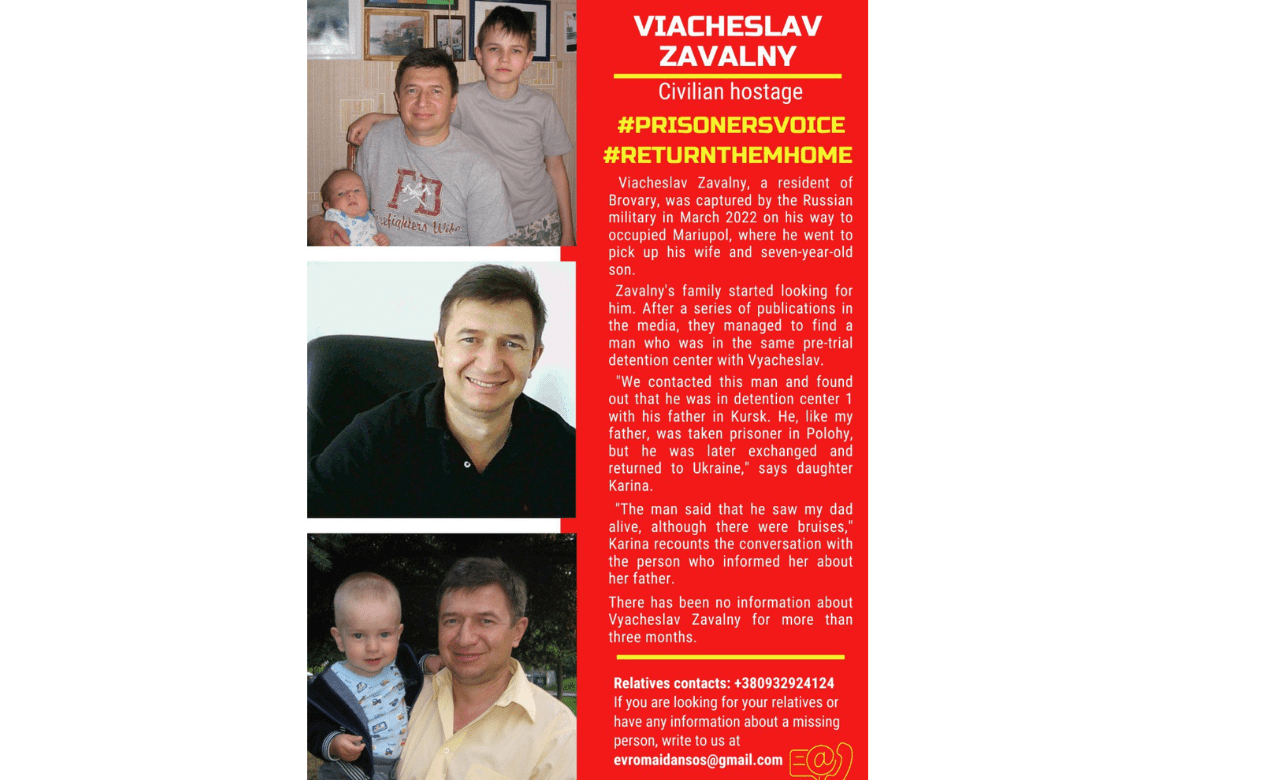 Viacheslav Zavalny, a resident of Brovary, was captured by the Russian military in March 2022 on his way to occupied Mariupol, where he went to pick up his wife and seven-year-old son.
Unfortunately, he could not reach his family then – Viacheslav was captured in the city of Polohy, Zaporizhzhia region.
According to his daughter Karina Malakhova-Dyachuk, it is now known that he is in the territory of the Russian Federation in the pre-trial detention center of the city of Kursk.
She says that on March 10, her father left Brovary for Mariupol, where his wife Natalya was with her seven-year-old son Dmytro. At that time, Mariupol was already occupied by the Russian military; the city was constantly under fire.
It is also known that Vyacheslav was waiting for the "green corridor" near Zaporizhzhia until March 21, which wasn't organized. It is also known that on March 22, a resident of Brovar drove through Orihiv, only to come across a Russian checkpoint in Polohy.
"From there, he dialed Nataliya, informed, that the Russians detained him until the circumstances were clarified, and told her to get out of Mariupol on her own. It was the last call from dad…" – says Karina Malakhova-Dyachuk.
Then, immediately after this call, Zavalny's family started looking for him. After a series of publications in the media, they managed to find a man who was in the same pre-trial detention center with Vyacheslav Zavalny.
"We contacted this man and found out that he was in detention center 1 with his father in Kursk. He, like my father, was taken prisoner in Polohy, but he was later exchanged and returned to Ukraine," says Karina.
"The man said that he saw my dad alive, although there were bruises," Karina recounts the conversation with the person who informed her about her father.
At the end of July, she registered a petition on the website of the President of Ukraine demanding that the head of state take effective measures to release a huge number of civilian hostages taken by the Russian authorities, ignoring the requirements of the Geneva Convention on the Protection of Civilians, violating human rights.
There has been no information about Vyacheslav Zavalny for more than three months.
His family is waiting for news about Vyacheslav: daughter Karina, wife Natalia, who, together with her seven-year-old son, was able to escape from occupied Mariupol and went abroad.
"I don't have any information: on what basis were they taken to the territory of Russia and on what basis was he detained? – Natalya Taraschuk, Vyacheslav Zavalny's wife, is indignant.
"Well, I understand. So it is de facto a set of "exchange funds", right? So. That is, I understand this in my head. But de jure, we do not know the reasons. That is, I think, there is no de jure there at all. If the lawyers get to them and see them, well, let's say Slavyka, it will already be clear that he is alive. Maybe he will need some help, maybe at least some information about what and how much? How long will he be kept there? Are they waiting for an exchange, or is he already accused of something? We don't know. We don't have any information," Natalia stressed.
We remind you about the flash mob of the "Civil Liberties Center" Prisoners Voice initiative – #ReturnThemHome #Prisoners Voice.
Share the story of Viacheslav, other prisoners on your social media pages.
To support the flash mob, you need to take only three simple steps:
1) Choose the story of someone in Russian captivity, https://cutt.ly/returnthemhome.
Visit this link daily and choose other stories; we will constantly add them.
2) Share this photo story on your social networks (Instagram, Facebook, Twitter, TikTok), adding the hashtags #ReturnThemHome #PrisonersVoice
3) Tag such organizations as the United Nations International Committee of the Red Cross, OSCE – The Organization for Security and Co-operation in Europe, and representatives of the authorities of foreign countries under the photo. For example, the president, prime minister, and ombudsman of the country in which you live.
Contact information of Karina Malakhova-Dyachuk: tel. +380932924124