17.11.2022
Hiding in plain sight: Using open-source information to find disappeared persons in Mexico and Ukraine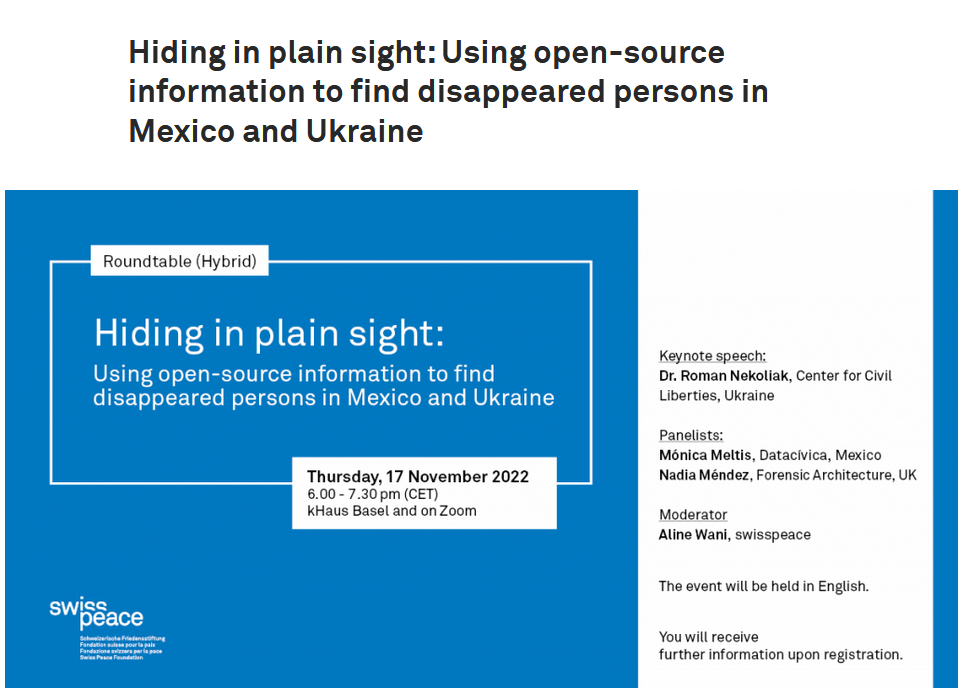 Roman Nekoliak, Center for Civil Liberties Coordinator for International Cooperation open a public panel on the topic of "Hiding in plain sight: Using open-source information to find disappeared persons in Mexico and Ukraine" on 17 November 2022 at 6 pm (CET).
This panel is a part of a 2-day international expert workshop on archiving and preservation of open source information for Dealing with the Past and co-organized by swisspeace and the Swiss Federal Department of Foreign Affairs (FDFA).
The workshop brings together activists and experts dealing with open-source information documenting human rights violations and working on safely archiving and preserving them for the future. The panelists share experiences, challenges, best practices, and lessons learned on digital preservation, open source investigation and dealing with the past.
Roman shared an overview of the CCL work emphasizing the relevance that the CCL attribute to OSI Information in their daily work and how is the information relevant in regard to truthtelling and holding guilty parties accountable for their crimes. Also, he provided an overview of the staggering numbers of missing and disappeared persons in Ukraine.