10.05.2019
The Russian Federation cannot return to the Parliamentary Assembly of the Council of Europe until all Kremlin hostages are liberated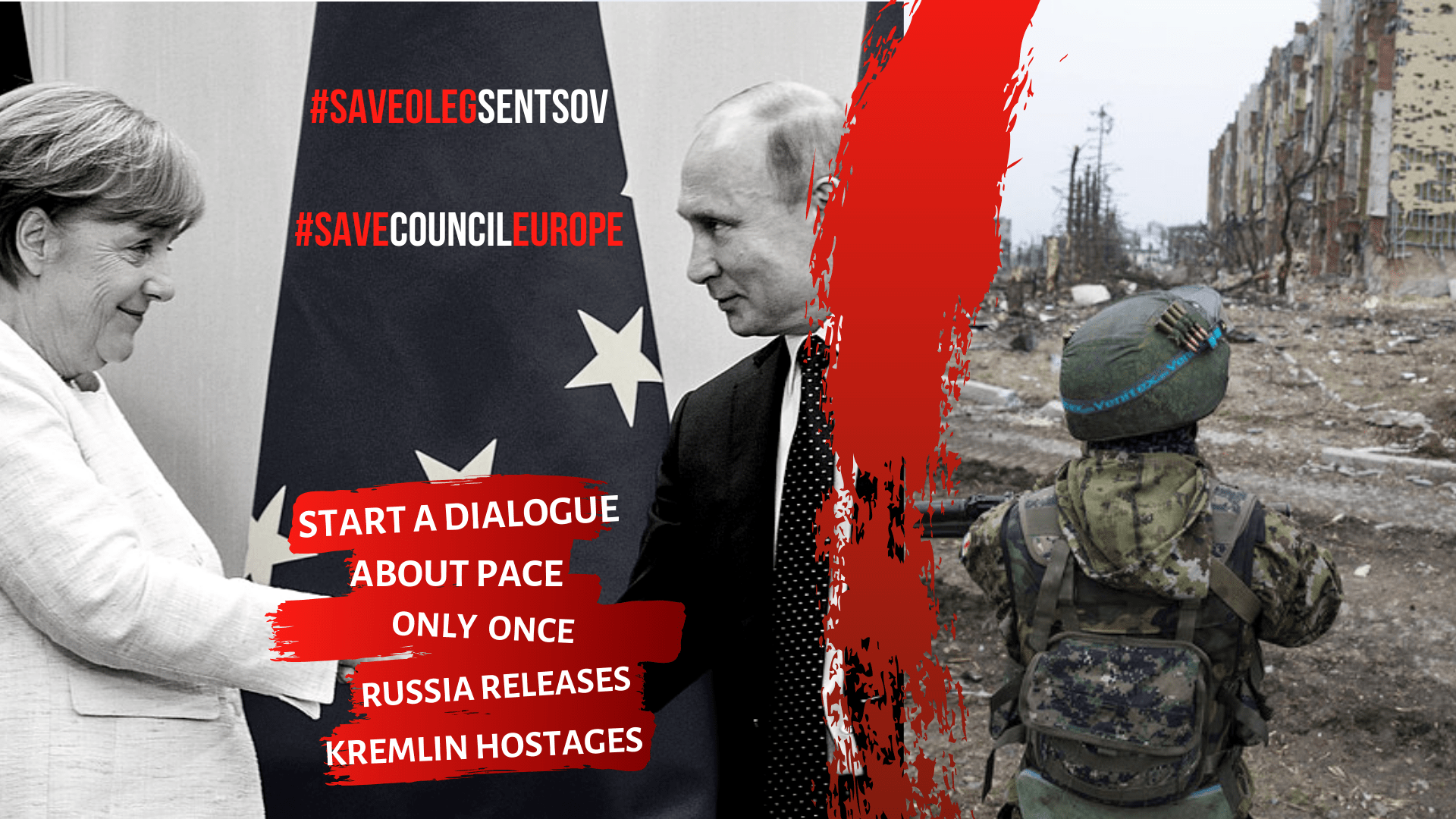 To: Ministers of Foreign Affairs of the Council of Europe Member State
We, the participants of the #SaveOlegSentsov Global Action from all over Europe, would like to call on you to oppose the return of the Russian Federation to the Parliamentary Assembly of the Council of Europe (PACE) until it releases all Ukrainian political prisoners, hostages and sailors. This was PACE's requirement for Russia.
In 2014 and 2015, PACE imposed sanctions on Russia for violation of Ukrainian sovereignty, illegal annexation of Crimea, military occupation of Ukrainian territory, threat of military force against peaceful inhabitants, religious persecution and illegal detentions. None of this has been stopped or reversed so far.
We strongly believe that even discussion about returning Russia to PACE cannot begin without at least liberating all Kremlin hostages in the Russian Federation and occupied Ukrainian territories.
As of now, more than 98 Ukrainian political prisoners are held hostage in Russia and occupied Crimea. More than 120 prisoners and civil hostages are held in the occupied Donbas, which is under the de-facto control of Russia as recognized by Article 4 of the PACE report "Legal remedies to human rights violations on the Ukrainian territories outside the control of the Ukrainian authorities". Among those detained are civic journalists, students, lawyers, human rights activists and others.
Besides the requirements to stop the illegal occupation of Ukrainian territory and military aggression against Ukraine, PACE obligated Russia to guarantee human rights of all inhabitants of Crimea and occupied territories. Nevertheless, the Russian Federation keeps escalating the situation by continuing to perform illegal arrests and detentions of Ukrainians. For example, on November 25, 2018, Russian authorities arrested 24 Ukrainian sailors in their vessels followed by a lack of a  decisive reaction by the international community.
Despite the deteriorating human rights situation, on May 16-17 the Ministerial meeting of the Council of Europe (COE) may nevertheless endorse the mechanism which would eventually deprive PACE of its powers to impose sanctions and set conditions for Russia's unconditional return to PACE. By doing this, the COE would turn a blind eye on Russia's crimes, thus greenlighting more violence against peaceful inhabitants and further violations of international law.
Are you and leaders of other Western democracies, which have been a lighthouse for Ukraine's democratic transformation since the Revolution of Dignity, ready to take co-responsibility for crimes perpetrated by the Kremlin's regime?
For the sake of the future of international law and the protection of human rights, we are calling on you to:
maintain the existing PACE sanctions mechanism and condition the return of Russia to PACE on the release of all political prisoners and hostages;
raise the issue of the state of human rights and conditions of detention of Kremlin hostages, as well as necessity to stop practices of abduction, torture and illegal detention of people in occupied Crimea and Donbas during all events with the participation of Russian official representatives.
We are convinced that the Russian Federation has to make a step in the right direction in order to earn back its right to vote.
While currently celebrating its 70th anniversary, the Council of Europe is standing at a crossroads. But we are convinced that the values and principles of human rights do matter for the member states and will prevail.
NGOs – signatories:
Association of Relatives of Political Prisoners of the Kremlin
Center for Civil Liberties
Ukrainian Center of PEN International
All Ukrainian Association "Automaidan"
Human Rights Center ZMINA
Media Initiative for Human Rights
Open Dialogue Foundation
Anticorruption Action Center
Transparency International Ukraine
Centre for Economic Strategy
New Europe Center
Opir.org
СGS Strategy XXI
Dejure Foundation
Truth Hounds
Centre UA
Chesno Civic Movement
Defending Democracy
Vostok-SOS CF
Centre of Policy and Legal Reform
StateWatch
Ukrainian Leadership Academy
Crimean Human Rights Group
Institute for Peace and Democracy, Azerbaijan/Netherlands
Euromaidan-Warsaw Foundation, Poland
Association of Ukrainians in the Republic of Ireland
Saint Olha Association, Australia
Ukrainischer Frauenverband in Deutschland
Global Ukraine Foundation
Patriotic Association of Ukrainians in Spain "Volya"
Ukraine Action, France
Institute of Gender Programmes
Invisible Battalion
Kharkiv Human Rights Protection Group
Ukrainian Helsinki Human Rights Union   
NGO "Human Rights Vector"
«Associação Cultural de Solidariedade e Apoio-Coração Bondoso", Portugal
Ukrainas atbalsta biedrība , Latvija

Individual signatories:
Oleksandra Matviychuk, head of the board of the Center for Civil Liberties
Yevgeniy Zakharov, Kharkiv Human Rights Protection Group     
Tetyana Pechonchyk, head of the board of the Human Rights Center ZMINA
Oleksandra Romantsova, executive director of the Center for Civil Liberties
Olena Halushka, member of the board of the Anticorruption Action Center
Kateryna Butko, Project coordinator of the All Ukrainian Association "Automaidan"
Mykola Horbal, dissident
Andrey Kurkov, novelist, President of the Ukrainian Center of PEN International
Tetyana Teren, journalist, executive director of the Ukrainian Center of PEN International
Stepan Protsyuk, writer, member of the Ukrainian Center of PEN International
Halyna Coynash, Kharkiv Human Rights Group
Oleksiy Panych, philosopher, translator, member of the Ukrainian Center of PEN International
Mark Bielorusets, translator
Ihor Isichenko, archbishop of Kharkiv and Poltava
Vasyl Makhno, writer
Mykola Rjabtschuk, author
Natalia Bilotserkivets, poet
Victor Morozov, translator
Oleksandr Vilchynskyi, author
Victoria Amelina, writer, member of the Ukrainian Center of PEN International
Kateryna Botanova, cultural critic, member of the Ukrainian Center of PEN International
Natalia Panchenko, Euromaidan-Warsaw foundation
Violeta Moskalu, founder of Global Ukraine Foundation
Iryna Slavinska, journalist
Yuliya Musakovska, poet, member of the Ukrainian Center of PEN International
Oleksiy Sinchenko, literary critic, member of the Ukrainian Center of PEN International
Oleksiy Nikitin, writer
Oksana Lutsyshyna, writer, professor at the University of TexasVakhtang Kebuladze, philosopher, writer, translator, member of the Ukrainian Center of PEN International
Anna Vovchenko, translator, cultural manager, member of the Ukrainian Center of PEN International
Ivan Andrusiak, poet, writer, editor, member of the Ukrainian Center of PEN International
Petro Yatsenko, writer, member of the Ukrainian Center of PEN International
Oleh Kotsarev, writer, journalist, member or the Ukrainian Center of PEN International
Petro Midianka, poet
Oles Ilchenko, writer
Vitaly Chernetsky, literary critic and translator; professor, University of Kansas; member of the Ukrainian Center of PEN International
Maria Berlinska, film producer, volunteer
Ihor Kozlovskyi,  scientist, writer, member of the Ukrainian Center of PEN International
Natalia Belchenko, poet, translator, member of the Ukrainian Center of PEN International
Olha Luchuk, literary scholar; associate professor, Ivan Franko National University of Lviv; member of the Ukrainian Center of PEN International     
Taras Luchuk, literary critic, poet and translator; member of the Ukrainian Center of PEN International
Rebecca Harms, Member of the European Parliament