04.04.2022
Euromaidan SOS: Zelenskyi must immediately sign the law on war criminals (reg. No. 2689) in response to the Russian army's atrocities in Bucha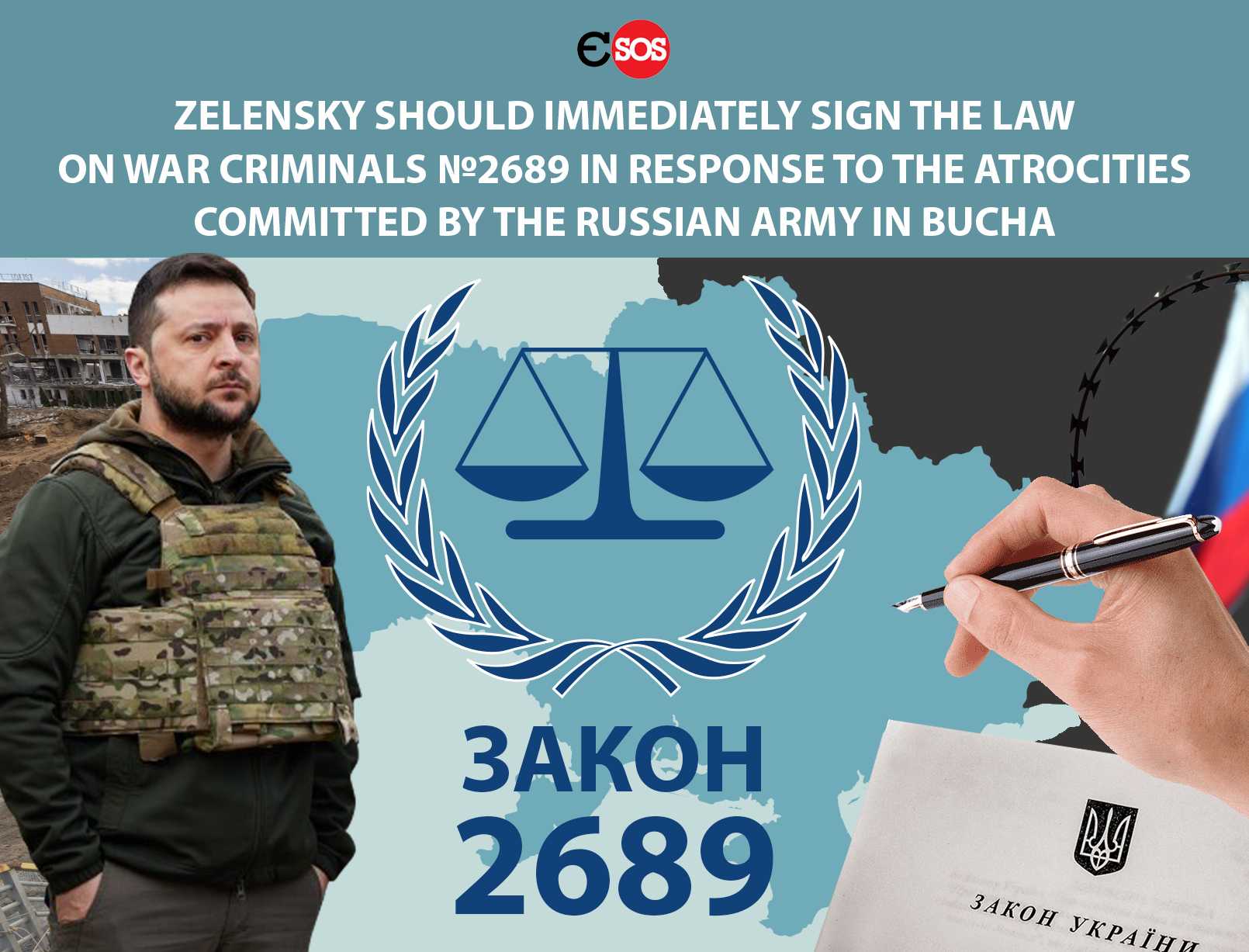 In recent weeks, volunteers from Euromaidan SOS have been documenting the stories of people who were lucky enough to escape from Vorzel, Bucha, Irpin, Hostomel, Katiuzhanka, Dmytrivka, Borodyanka, Motyzhyn and other towns in the Kyiv area.
After these territories have been liberated, everyone was appalled to see the systematic and extensive nature of the war crimes and crimes against humanity inflicted upon civilians.
It should be recalled that Russia deliberately denied the International Committee of the Red Cross the opening of humanitarian corridors for safe passage of civilians. In fact, the Russian army isolated the residents of these inhabited localities, waging terror against civilians, such as extrajudicial executions, torture, rape, abductions, etc.
We support the President's words about inevitability of criminal liability for these atrocities. However, he should follow up these words with real action. The Criminal Code of Ukraine so far imposes no liability for crimes against humanity, while its war crime provisions have been worded so poorly as to make qualification of crime almost impracticable.
Even if the International Criminal Court were solely to be relied on, it would be unable to cover the entire range of the committed international crimes, since its policy makes it focus on top officials exclusively. Therefore, thousands of perpetrators who have committed these crimes with their own hands would remain the responsibility of national investigative and judicial authorities. The International Criminal Court operates on the complementarity principle, i.e. rather than substituting for national judicial authorities, it considers cases of the gravest international crimes where the State is 'unable' to investigate such crimes or knowingly 'evades' doing it.
However, international crimes are not covered by a statute of limitations; therefore, putting off the solution to this problem domestically would entail a direct path to impunity.
The draft law (reg. No. 2689), developed at the initiative of the Centre for Civil Liberties and Human Rights Agenda Platform, is precisely intended to address the existing gap. It indeed provides the State with legal instruments to bring war criminals to justice. These amendments to the Criminal Code are all the more important in the event of successful implementation of the idea, announced by the President of Ukraine, to set up an international hybrid tribunal.
Euromaidan SOS and the civil society organisations signed below remind that the law on war criminals (reg. No. 2689) has been awaiting the Ukrainian President's signature since June 2021. Volodymyr Zelenskyi must prove his commitment to pursue war criminals by doing a simple thing – signing this draft law immediately.
We also reiterate our call on the Ukrainian Parliament to ratify immediately the Rome Statute of the International Criminal Court.
Appeal supported by:
Centre for Civil Liberties
Ukrainian House Crimean Centre for Business and Cultural Cooperation
Culture Against Rudeness Civil Society Organisation
Ukrainian Helsinki Human Rights Union
Crimea SOS
Public Television Civil Society Organisation
Vox Ukraine
MART Civil Society Organisation
Regional Centre for Human Rights
Coalition for Culture Civil Society Organisation
Depths of Art Charity Foundation
Centre of Policy and Legal Reform
One Philosophy / WeAreUkraine.info
Ukraine Crisis Media Centre
ZMINA Centre for Human Rights
Transparency International Ukraine
Centre for Law Enforcement Activities Research Civil Society Organisation
Social Action Centre Civil Society Organisation
Ukrainian Guild of Directors Civil Society Organisation
UPLAN Civil Network for Public Law and Administration
Association of Relatives of Kremlin's Political Prisoners
Almenda Centre for Civil Education
NGO "Patronus"
NGO "Docudays"