08.03.2022
Euromaidan SOS Statement on International Support Priorities for Ukraine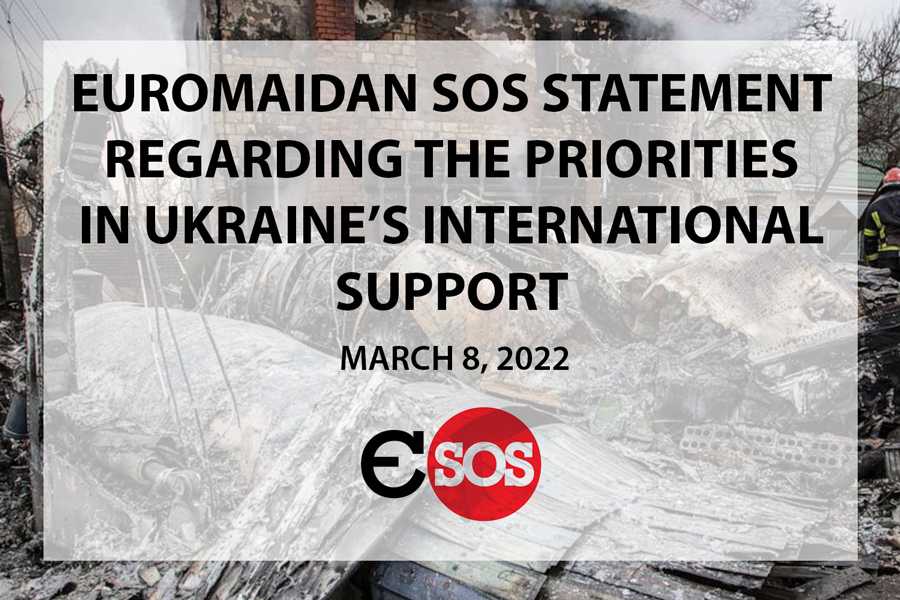 Today is the 13th day of Russia's aggressive war and invasion of Ukraine. According to the United Nations, almost 2 million asylum seekers have already crossed the borders of Europe. An increasing number of international organizations and volunteer initiatives are involved in humanitarian work. Governments are declaring various forms of support for Ukrainian refugees and various forms of assistance.
Ukrainians are infinitely grateful to all those participating in the organization of humanitarian aid to war victims. This activity reduces the number of civilian casualties and gives people a chance to survive. However, this by far is not enough!
Russia's war against Ukraine is and will remain a threat to Europe and the entire world. In his rhetoric, Putin has already directly threatened Lithuania, Latvia and Estonia. Notably, the threat from Belarus, which is under total control of the Kremlin, is very real, we are facing a direct attack by the Belarusian army. The involvement of Russia's CSTO partners is not ruled out. Today, the Vice President of the European Commission, Valdis Dombrovskis, urgently noted that this threat could spiral into a massive military intervention. Russian troops must be stopped now! Otherwise, Europe will have asylum anywhere. The number of victims will certainly increase a hundredfold, even a thousandfold.
It is crucial for international organizations, foreign governments, non-governmental organizations, and citizens all over the world to realize that humanitarian aid to war victims IS NOT ENOUGH!. They must concentrate their efforts and stop the Kremlin to prevent the number of victims from rising! They must help Ukraine defend itself against Russian aggression.
That is why we are calling upon the governments of the world, international organizations, civilians everywhere – including the global Ukrainian to continue supporting Ukrainians by providing desperately needed weapons, means of protection, medicines whilst exerting political and economic pressure on the aggressor countries.
Ukraine is fighting and courageously responding to the onslaught of enemy armies, tens of thousands of volunteers across the country are joining the Armed Forces or Territorial Defense, too many of them literally barehanded. They need your support to win and protect you, the citizens of the world.
The Euromaidan SOS initiative urgently calls upon you to:
close the skies over Ukraine and prevent the bombing of peaceful Ukrainian cities;
provide, help purchase or raise funds for the purchase of fighter jets, missiles, air defense, anti-tank systems in Ukraine;
disconnect all Russian and Belarusian banks from SWIFT, first of all Sberbank;
freeze all correspondent accounts in hard currency in the EU, USA, Switzerland, Japan, Great Britain of all Russian and Belarusian banks, and to freeze all bank accounts in hard currency of large Russian and Belarusian companies;
blacklist Russia and Belarus on the FATF;
impose an embargo on all key Russian exports: oil, gas, metals, minerals;
close all EU ports to Russian ships, and ban ships flying EU flags from entering Russia's seaports.