11.03.2022
Euromaidan SOS demands to ensure international presence and international monitoring of violations during the evacuation of the population from the destroyed cities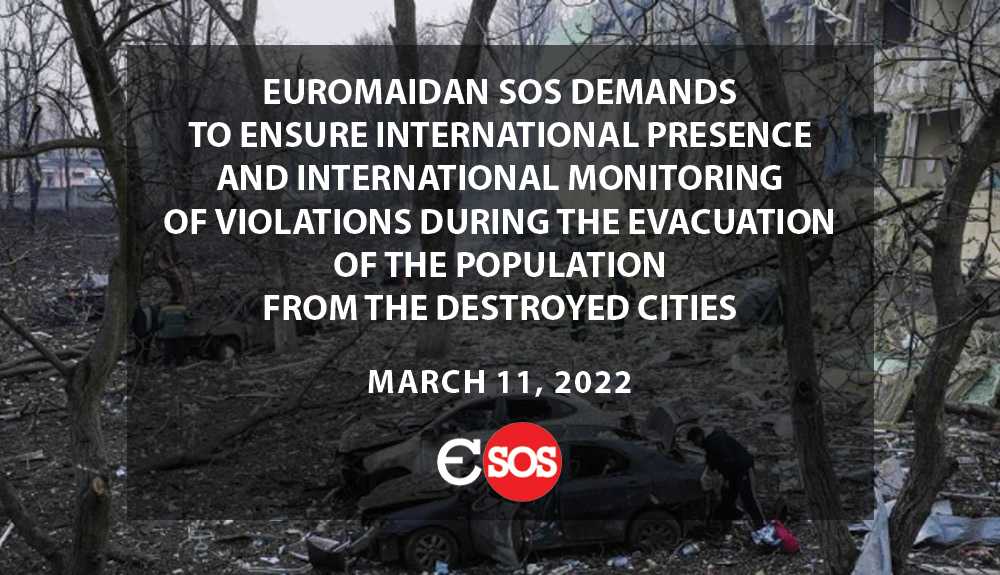 We have witnessed a severe humanitarian crisis in Ukrainian cities, villages and settlements destroyed by Russian troops. In Mariupol, Volnovakha, Izyum, Gostomel, Bucha, Chernihiv and other cities, people spend days and days in bomb shelters without food, water, electricity, medical care and communications. In Chernihiv and Mariupol, civilians killed are buried in mass graves, as a non-stop shelling of cities does not allow for any other option.
Russia refuses to create humanitarian corridors and/or regularly disrupts existing arrangements about the humanitarian passage of civilians with the purpose of breaking the resistance of the local population. Russia also blocks any attempt to deliver humanitarian aid to isolated cities. Thus, on March 11, 2022 only 4 out of 12 planned corridors could be used. Having lost hope of receiving humanitarian assistance, local residents are evacuating at their own risk under Russian troops' fire, which leads to numerous civilian casualties.
Most international organizations have evacuated their international staff from Ukraine and currently, they are not operating in the conflict hotspots due to serious threat to the lives and health of their staff. There are Ukrainian volunteers who are willing to risk their lives and health to help people trapped in the zones of active hostilities but they do not have enough resources or budget for this mission unlike the international organizations in charge of humanitarian matters. Ukrainian volunteers will not be able to evacuate all people requiring relocation or ensure that humanitarian aid is delivered to all those in need. International presence could provide additional security guarantees for the evacuation process and could make the Russian military stop shelling at humanitarian corridors.
Euromaidan SOS stresses the urgent need in ensuring the international presence and international monitoring of violations during the evacuation of the civilian populations from the destroyed cities, villages and settlements. We call on the International Committee of the Red Cross, the OSCE ODIHR, the OSCE Permanent Council in Vienna, the Council of Europe Commissioner for Human Rights, the Council of Europe, UN geographical and thematic mandates, UN Human Rights Council, UN High Commissioner for Human Rights, UN Office for the Coordination of Humanitarian Affairs (UN OCHA) to cooperate and ensure such international presence without any further delay.
Complex challenges require innovative solutions. Today, international organizations are obliged to perform the functions they have been created to perform. The situation where a party to the conflict openly violates the basic requirements of international humanitarian law (as the Russian Federation does in its aggression in Ukraine) urges to apply flexible formats of cooperation between international organizations and local initiatives, as well as to take personal responsibility and make an utmost effort to help civilians even if this help is channeled beyond the established procedures.
The appeal was signed by the following organizations:
Center for Civil Liberties
Ukrainian Institute of Human Rights
ZMINA Human Rights Center
Human Rights Educational House – Chernihiv
NGO "Human Rights Vector"
Crimean Human Rights Group
Institute for Mass Information
Ukrainian Helsinki Human Rights Union
Cherkasy Human Rights Center
Association of Jewish Organizations and Communities of Ukraine
Congress of National Communities of Ukraine
School of Media Patriots
Ukrainian Compliance Association
Public Communications Agency "Perfect PR"
OPORA Civic Network
Institute of Gender Programs
Women's Veterans Movement
Expert Group "Sova"
Independent Anti-Corruption Commission on Defense
Detector Media
Internews Ukraine 
Foundation "Suspilnist" 
Ivano-Frankivsk regional organization "Moloda Prosvita"
ENGin / The Manoff Foundation
Centre for Democracy and Rule of Law

Signatories in individual capacity:
Maria Berlinska, veteran, author of Invisible Battalion, Senior Technical Advisor (IREX)
People's Deputy of Ukraine Mykita Poturayev
People's Deputy of Ukraine Maria Mezentsev
Hanna Deikun, PhD student at the University of Illinois at Chicago