10.01.2016
Free Sentsov!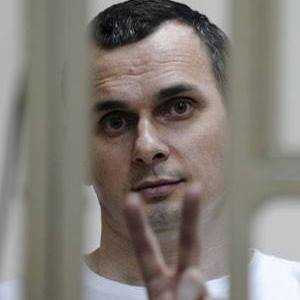 Ukrainian filmmaker Oleg Sentsov is serving 20 years in a Russian harsh regime prison camp after what Amnesty International called a show trial. HIs crime? Standing up for what he believes. We, the international community, are Sentsov's best hope and must protest this injustice until he is freed.
Oleg Sentsov took an active part in Ukraine's Euromaidan, Revolution of Dignity. Sentsov stated that he did not recognize the Russian annexation of Crimea and helped deliver food and supplies to servicemen trapped at Ukrainian bases there. Sentsov was kidnapped and taken to Russia, subjected to torture, and put on trial as a Russian citizen.
The major evidence against him was the "confession" of Gennady Afanasyev, who later retracted it, saying he had been tortured.
Directors including Agnieszka Holland, Ken Loach, Mike Leigh, and Pedro Almodóvar have demanded his release, and Iranian film director Mohsen Makhmalbaf dedicated his acceptance of a prize at the 2015 Venice Film Festival to Sentsov, calling the conviction a "major injustice." Russian filmmakers have spoken out, including Andrey Zvyagintsev, whose film Leviathan won the best foreign language Golden Globe. The European Parliament and the Parliamentary Assembly of the Council of Europe have launched protests, and the authoritative Memorial Human Rights Centre recognizes Sentsov as a political prisoner.
Sentsov is one of perhaps dozens of Ukrainians illegally held in Russia. No country should be allowed to abduct foreign nationals and convict them in farcical court trials on fabricated charges.
These are words from Sentsov to the Russian people at his sentencing:
"We also had a criminal regime, but we came out against it. They didn't want to listen to us — we beat on trash cans. They didn't want to see us — we set tires on fire. In the end, we won. The same thing will happen with you, sooner or later. I don't know what form it will take and I don't wish to see anyone suffer. I simply wish for you to no longer be governed by criminals."
——————————-
To write to Sentsov:  http://khpg.org/en/index.php?id=1441197604
For more on Sentsov:  https://medium.com/@Hromadske/putin-s-hostages-sentsov-kolchenko-aeec0163bc19
Sentsov and civic activist Oleksandr Kolchenko (sentenced to 10 years) conducted themselves with courage and dignity at the trial:  www.rferl.org/content/crimean-director-sentsov-trial-transcript-russian-court-terror-charges/27197814.html
Эта петиция была доставлена:
Russian President Vladimir Putin