23.01.2018
Ukrainian police disturbingly passive during far-right attack on Kyiv gathering in memory of Markelov & Baburova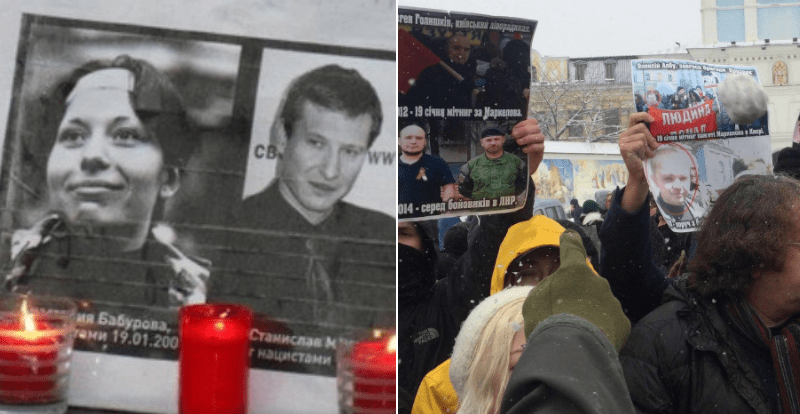 A planned remembrance gathering on January 19 in honour of slain Sevastopol journalist Anastasia Baburova and Russian lawyer Stanislav Markelov was disrupted on January 19 by thugs from the far-right C14 group.  Civic activists monitoring the police officers' failure to protect people at a peaceful gathering believe that their behaviour indicates disturbing bias.
Markelov and Baburova were murdered in the centre of Moscow on January 19, 2009, with members of the neo-Nazi 'Militant Organization of Russian Nationalists', or BORN later convicted of the killings.  The Ukrainian C14's attempts to deny their neo-Nazi leanings are not made any more credible by their aggression against Ukrainians honouring two committed rights defenders and enemies of bigotry.  The claims made by C14 leader Yevhen Karas and his cronies that those they attack are 'separatists' and Russian supporters are totally baseless.
This is not the first time that people attending the annual remembrance events have faced counter-demonstrations by members of the far-right, but this one was more extreme, and the numbers high.
The C14 young men, many with hoods on and masking their face, turned up on St Michael's Square before the meeting was to take place, and started shouting abuse.  They also hurled an egg at Volodymyr Chemerys, one of the organizers.  Although there was no physical attack as such, the aggression prompted the organizers to decide that the gathering would not take place.
Chemerys asserts that, as well as the C14 thugs, there were also Russian and Belarusian neo-Nazis present and that they acted in coordination with the police.
It is certainly highly disturbing that the only people detained were eight people who had come to take part in the remembrance event.
Members of OZON, a civic initiative monitoring peaceful gatherings, report that the police officers took no real measures to ensure the safety of participants in the remembrance gathering.  "Instead, even before the beginning of the action, they resorted to unlawful detentions of participants without any explanation.  They later tried to mask these as so-called 'invitations'  [to the police station]".  There was no reaction at all to the unacceptable hooliganism by C14 activists.
It should be stressed that there was nothing unexpected about the far-right activities. On January 18, Ukraine's Human Rights Ombudsperson Valeria Lutkovska had even publicly called on the Head of the National Police Serhiy Knyazev to ensure the safety of participants in the remembrance meeting.  This, she stressed, needed to be during the gathering, and after it.
While there is no clear proof that the three louts who physically attacked and injured a young Briton Liam Anthony Tong on St. Sophia Square on Friday afternoon were from the far-right groups, it is hard to see it as coincidence.  The young man notes himself that he had a hood on (concealing his brightly-coloured hair), but had facial piercings which would make him a fairly typical target for far-right thugs.
Lutkovska's call was totally ignored, as was the request from the organizers of the remembrance gathering to ensure that a cordon was kept between participants in their meeting and in the  counter-meeting of their opponents.
OZON notes that the failure to act was not explained by a lack of police officers.  There were enough special purpose regiment police, as well as members of the National Guard present.
OZON members asked how many activists had been detained, and where they had been taken but were told by officers that they didn't know.  One of the people detained later wrote that he had been held in the Shevchenkivsky District Police Station where the officers had shown bias, claiming that they had previously taken part in 'pro-Russian protests'.  This is the line taken by C14, but appears to be part of their general tendency to treat all those whom they don't like as 'left-wing', 'separatist' and 'pro-Russian'.
In a statement issued on January 20, the Centre for Civil Liberties said that the police behaviour on 19 January suggests "not only a low professional level of the police corps, deployed to protect the safety of members of a peaceful gathering, but also their likely prejudiced attitude to participants of a remembrance gathering which, in view of the citizenship of the slain victims could be viewed as 'pro-Russian'.
Any such discriminatory behaviour is unacceptable.  The authors stress that failure by the police to carry out their positive duty to protect peaceful gatherings is in violation of Ukrainian legislation and international standards.  They demand an internal enquiry to establish what went wrong.
Stanislav [Stas] Markelov was committed to defending those whose rights were being abused – in Chechnya, by the police, as well as by neo-Nazi nationalists and others.  The 34-year-old who was married with two small children was shot while walking away from a press conference where he was representing the family of Ella Kungaeva, the 18-year-old Chechen girl raped and murdered by Russian colonel Yury Budanov.
25-year-old Nastya Barburova was originally from Sevastopol in Crimea but had been studying in Moscow and had just begun working for the independent newspaper Novaya Gazeta.  While sharing the same anti-fascist views as Markelov, she was with them because she had just taken an interview, where Markelov spoke of the problem of impunity from punishment for war comes, the actions of Russian military forces against civilians during the second war in Chechnya, and about Budanov's crimes and the difficulty of getting him prosecuted.
Sourse, 22/01/2018.