19.02.2016
Stories of tragedy and heroism: Ukraine's EuroMaidan Revolution on film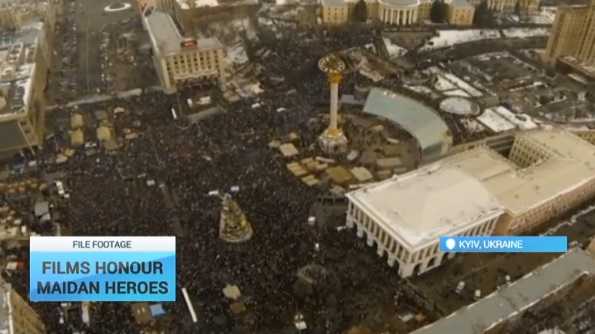 Docudays UA festival in Kyiv showcases the tireless work of volunteers during the 2013-2014 uprising
The International Human Rights Documentary Film Festival Docudays UA is opening in Kyiv this Thursday, February 18th.The date carries a tragic significance. This is when the peaceful protesters on Maidan were shot at by Berkut forces two years ago, many of them died. Docudays UA films focus on self-organizing initiatives that started during the Maidan and have become a key driving force when it comes to helping the army, getting humanitarian relief and providing medical aid in Ukraine.
The three films showcased at the opening- 'Euromaidan SOS', 'White Collar Unit' and 'Language'.
Emotional and at times shocking, the documentaries reveal the perseverance of ordinary civilians who sacrifice their time and effort to help others. The films highlight all the complex aspects of the pro-EU protests which later became known as The Revolution of Dignity.
The main message of Euromaidan resonated with people throughout the world. European values are what the people of Ukraine strive for… And this message isn't forgotten by E.U. officials.
Members of volunteer organizations featured in the film as well as families of those who lost their lives during the protests came to the private showing.
One of them is the widow of Volodymyr Rybak, who was an outspoken city council member from Horlivka.
In this video footage back from April 2014 Rybak is seen trying to get into a local administration building to take down the flag now used by Russian-backed separatist forces. He is pushed away by men, some of whom are wearing balaclavas. That same day Rybak was kidnapped. Days later his body was found floating in a river with signs of torture. Nearly two years since his death, his widow says authorities are not able to bring the guilty parties to justice.
Olena Rybak, widow of killed Volodymyr Rybak: "Right now everything has been closed down. They say they know everything but can't do anything. I'm dissatisfied with it all." 
Recovering after the bloodshed at the Euromaidan demonstrations may take years for Ukraine. The country suffered a tremendous loss of lives during the protests…and what followed was unimaginable for most Ukrainians – Russia's annexation of the Crimean Peninsula and its military intervention in the Donbas triggering another war for Ukraine's independence
Docudays UA film festival aims to shed the light on the events that took place during the Euromaidan revolution. The films tell a story of the organizations that took roots during some of the most difficult times of the Revolution of Dignity.
This is Tamara Rozouvan in Kyiv for Ukraine Today.
Source: http://uatoday.tv/politics/stories-of-tragedy-and-heroism-ukraine-rsquo-s-euromaidan-revolution-on-film-595012.html