26.02.2016
Democracy Defender Award-2016 granted to Oleksandra Matviychuk, head of Center for Civil Liberties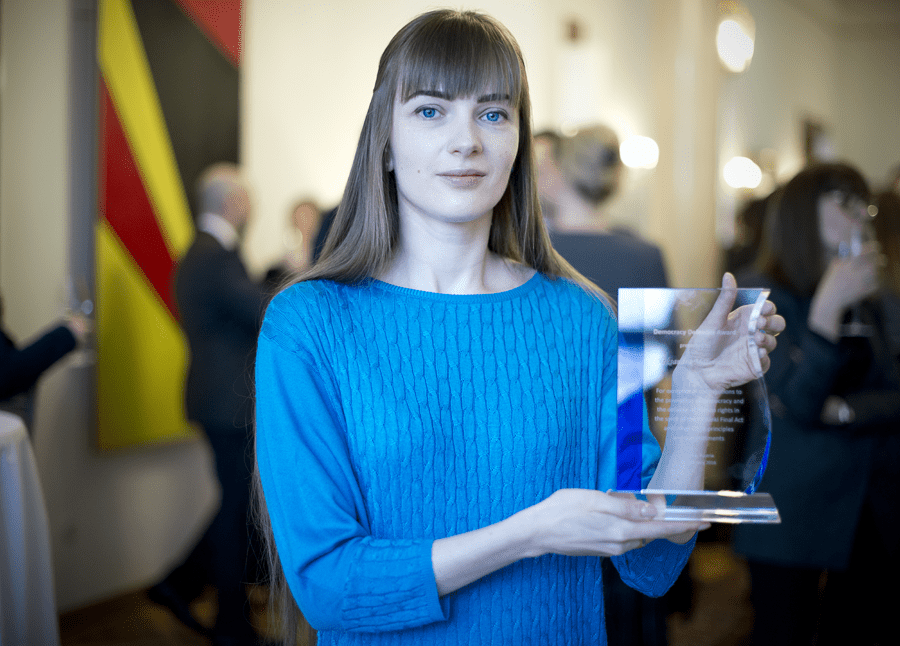 A prize-giving ceremony of Democracy Defender Award-2016 took place in the premises of OSCE Parliamentary Assembly. The award was granted to Oleksandra Matviychuk, human rights activist from Ukraine, for "her exclusive contribution into democracy promotion and human rights protection".
This award initiative belongs to 17 OSCE delegations, in particular of Canada, Denmark, Montenegro, Netherlands, Sweden, Switzerland, Great Britain, USA and others.
The award was handed out by Zhanna Nemtsova, the elder daughter of renowned Russian oppositionist Boris Nemtsov assassinated on the Big Moskvoretsky Bridge a year ago.
Thus, award initiating countries supported strive of the Ukrainian people to building up a democratic society and maintaining human rights. As a matter of fact Ukraine presently is almost the only exception in the whole post-Soviet area where civil society space keeps gradual curbing to "the size of a prison cell".
At a special meeting of OSCE delegations leaders Oleksandra Matviychuk reminded about the need to arrange continuous international presence in the occupied Crimea where only in the recent time 4 more persons were arrested out of political motivation, a public prosecutor's lawsuit purposed to ban Mejlis was filed, and where people subjected to constant searches now have to sleep fully dressed.
Besides, the human rights defender pointed out the fact that Norman format participants have to "put the human rights back onto the desk of Minsk negotiations". They are to give a clear sign to Russia and controlled by it puppet "Donbas republics" that there will be no amnesty for people who committed war crimes, who are guilty in the death of Malaysian Boeing jet passengers, who are accessories to organization of systematic kidnapping and torturing civilians, etc. Also, in her opinion, no way can it be about any elections until on the occupied territories a due level of protection of fundamental human rights is provided – freedom of speech, right to a fair trial, freedom of association, freedom from torture, etc. It is the real protection of human rights that is an important guarantee of free expression of people's will as a way to attain peace in the area of Donbas. Otherwise elections will become only a tool of legalizing military dictatorships created on these territories.
But in the first place and by all means the hostages, who according to the 2nd Minsk Agreement should have been back home a year ago, must be freed. They are military men and civilians, for instance, Lugansk journalist Masha Varfolomeyeva who has been imprisoned for the 12th month in the basement under absurd allegations.
Aleksandra Matviychuk told about positive steps with regard to implementation of reforms in human rights domain, at the same time she emphasized their inconsistent character and pointed out significant shortcomings. In particular, Ukraine's gradual transformation into the first state in the world to have fixed monopoly of advocacy on the constitutional level, and thus, limiting its own citizens in their right for legal defense. International community was especially surprised by not in the least grounded adjournment of ratification of Rome statute for three years in the time when International Criminal Court is already conducting a preliminary examination of the situation in Donbas on the application of Ukraine itself.
The human rights defender called to support Ukraine at every possible way and at all levels, since Ukraine's success will have an inevitable positive impact on the whole OSCE region. But at the same time she urged the audience to be "hard-handed friends" and require from Ukraine continuous advancing and concrete results on the way of democratization.
It is worth to remind that Oleksandra Matviychuk is a chairman of the board of Center for Civil Liberties and a coordinator of Euromaidan SOS citizen initiative which was founded in response to brutal crackdown upon peaceful students' demonstration. Center for Civil Liberties internationally renowned for its continuous cooperation with UNO, EC, EC and OSCE institutions. Besides, the organization collaborates with International Criminal Court in investigating the crimes against Euromaidan, carries out public control over government authorities through the agency of  OZON public supervision group, promotes reforms within police, court and prosecution bodies through the agency of Human Rights Agenda platform, provides monitoring and fieldwork in the Crimea and Donbas through the agency of Euromaidan SOS initiative mobile groups, holds a row of international campaigns, among which there is LetMyPeopleGo campaign for freeing all imprisoned by Russia Ukrainian citizens, FreeDonbasHostages campaign for urgent return of hostages back home from occupied Donbas, etc.
For the full text of Oleksandra Matviychuk's statement at the official prize-giving ceremony press here.