26.11.2019
SHE'S FIGHTING FOR UKRAINE TO REMEMBER ITS PRISONERS OF WAR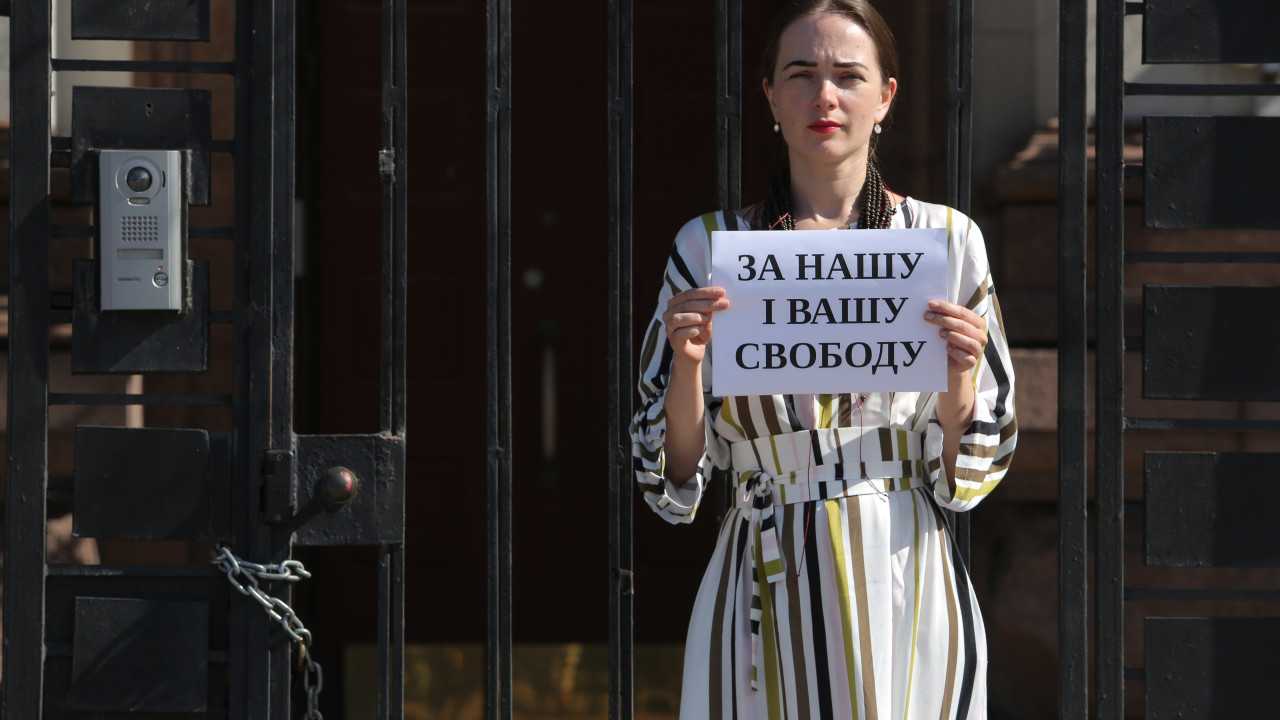 By Dan Peleschuk
original article 
Oleksandra Matviychuk hasn't quite gotten used to it. Who could? Fielding firsthand accounts of torture that include severed fingers and gouged-out eyes are enough to rattle even the hardiest of human-rights defenders. But debriefing those freed from rebel captivity has become a devastating reality of her work as a crusader against the politically motivated detention of Ukrainians, both at home and abroad, amid the government's war with Russian-backed separatists.
For more than five years, Ukrainian troops have faced off against Kremlin-supplied fighters who've claimed two eastern regions. Since the war began in April 2014, researchers have recorded abuses on both sides of the line. But the virtual lawlessness in those rebel statelets, combined with propaganda-fueled grievances against the Ukrainian government, means civilians even vaguely suspected of treachery often face brutal treatment. Captured soldiers are even less lucky.
"Some people explain how they can't sleep because they still hear the sound of Scotch tape being unraveled," Matviychuk says with a focused intensity. Authorities in Russia and Crimea, which the Kremlin annexed from Ukraine shortly before the war began, have waged their own legal campaign against those accused of supporting an allegedly "fascist" government in Kyiv.
As director of the Kyiv-based Center for Civil Liberties, one of Matviychuk's chief responsibilities is to make sure that neither the Ukrainians caught in the conflict as political pawns, nor their captors, are forgotten. The cause received a major boost in September after the release of prominent Crimea-born director Oleg Sentsov, who was held by Russia for more than five years on trumped-up charges of terrorism. More recently, independent journalist Stanislav Aseyev was sentenced to 15 years in prison by rebel authorities in eastern Ukraine after being accused of spying.
FOR MOST UKRAINIANS, PREOCCUPIED WITH THEIR PRECARIOUS ECONOMIC CIRCUMSTANCES, HUMAN RIGHTS AREN'T EXACTLY ON THEIR MINDS.
But Matviychuk, a 36-year-old lawyer, is quick to point out that scores more are languishing in either rebel or Russian custody without the kind of resonant international support Sentsov received during his imprisonment. According to her organization's estimates, 227 Ukrainians remain imprisoned in rebel-held territories, while another 87 are being held in Russia or Russia-controlled Crimea.
Fortunately, experts say, Ukraine's new government under President Volodymyr Zelensky appears more open to negotiating prisoner exchanges with Russia and its rebel clients than his predecessor, Petro Poroshenko, who sought support from uncompromising nationalists. Still, the war grinds on despite attempts at disengaging from the front line. "The sides being so close basically guarantees that the cease-fire's going to continue to be broken, because they can see each other as targets," says Katharine Quinn-Judge, a senior analyst at the International Crisis Group. More than 13,000 people have died in the conflict.
Matviychuk's work is both public and discreet. She helps coordinate high-profile public awareness campaigns — like the one around Sentsov, who was released as part of a prisoner exchange with the Kremlin — on both social media and in cities around the world. But she also operates behind the scenes, often relying on anonymous informants, to gather information about what's going on with those held captive in the stifling authoritarian environments of eastern Ukraine or Russia.
Her job might be easier if she had more public support. But for most Ukrainians, preoccupied with their precarious economic circumstances, human rights aren't exactly on their minds on a daily basis. That the war's been simmering on the ground, and in public consciousness, for years also doesn't help. "On one hand, they'd say human rights are important," Matviychuk says of the average Ukrainian, "but on the other, they might say that torturing the enemy is also actually just fine."
Then there's the virtual futility of building cases against perpetrators who probably won't see justice anytime soon, shielded as they are by borders (whether de facto or de jure). But that hasn't deterred Matviychuk, who says she's collecting evidence for the day when it might come in handy in other ways: After all, Russia regularly exports mercenaries and other agents to conflicts across Eurasia and beyond. "We're not in touch with Syrian rights activists," she says, "but I'm positive that if I showed them our lists [of suspects], they'd recognize people who carried out crimes against them too."
Matvichyuk's peers say her persistence makes her perfect for the job. "In situations where she knows she's right, and that her actions and decisions can help someone, she'll ignore the phrase, 'That's impossible,'" says Tetyana Teren, vice president of PEN Ukraine, a writers' association that's partnered with Matvichyuk's organization.
Either way, it's a far cry from the career Matvichyuk first considered: directing dramas on stage. Instead, her formal legal training, coupled with an innate sense of compassion, guided her elsewhere. And when revolution broke out in Ukraine in late 2013, Matviychuk was among the first activists on the ground: She emerged as one of the movement's chief coordinators of information, the nature of which grew increasingly dire as the protests became more violent and ultimately deadly as the pro-Russian government cracked down harder.
Since then, Matviychuk has struggled to keep up with the chaotic emotional marathon that has ensnared many other Ukrainian activists as they've watched their country suffer through revolution, war and the painful rebuilding of their democracy. For her work, she's received numerous awards from international organizations — none of which has made her job any easier.
Throughout her modest childhood, which she spent in a small town outside the capital, Kyiv, she'd often be asked what she wanted to be when she grew up. Her answer: "I want to be a good person."
As it turns out, pursuing that goal means bearing witness to the worst.