26.11.2022
International webinar on conflict related sexual violence in Ukraine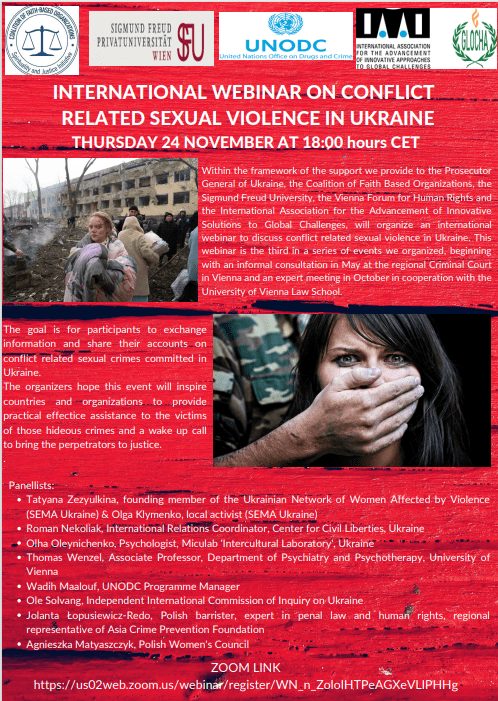 Roman Nekoliak Center for Civil Liberties Coordinator for International Cooperation participated in an online webinar on conflict-related sexual violence in Ukraine.
Roman used this opportunity to spread awareness about these crimes in order to enforce all measures necessary for the prevention, protection and treatment of victims and survivors of sexual violence.
Since the beginning of Russian aggression, Russia commit numerous violations of IHL and international human rights law: mass arbitrary detentions and arrests; extrajudicial executions; enforced disappearances of civilians in which representatives of military administrations are complicit; People are being held without charge or any legal grounds for a long time. Systematic beatings and torture; Arbitrary executions. Deportation and forced mobilization. Among them, cases of rape are one of the most notorious.
The global initiative Breaking the Vicious Circle of Russia's Impunity for Its War Crimes" ("Tribunal for Putin" in short) was created in response to the full-scale aggression of the Russian Federation in February 2022.
The participants of the initiative document the events that show signs of atrocity crimes under the Rome Statute of the International Criminal Court (war crimes, crimes against humanity and genocide) in all regions of the country that were attacked or suffered collateral damage.
Also, the "Tribunal for Putin" advocates for parties in a conflict to comply and respect the norms of international humanitarian law.
Most victims of such crimes are most likely to be civilian women and girls. Often they are left alone to face lasting physical and emotional damage. In conflict zones, women in general and women journalists, activists, peacebuilders, and human rights defenders become subjected to reprisals and intimidation.
From his documenting experience, it is evident that the Russian army weaponized sexual violence as a tactic of war. Sexual violence is directed at the entire society to awaken shame in the victims, guilt in those who were not able to protect them, and the fear of experiencing a similar attitude in the rest. This is expected to weaken social connections and simplify seizing control over the region.
When analyzing the most recent conflicts in Syria and in the northern Ethiopia Tigray region it is believed that some cases go undocumented due to fear of reprisals and cultural stigma.
In 2008 the United Nations Security Council unanimously passed Resolution 1820 that recognized sexual violence as a "tactic of war to humiliate, dominate, instill fear in, disperse and/or forcibly relocate civilian members of a community or ethnic group," and can help determine whether genocide has been committed.
Exposure to violence and in particular sexual violence is one of the key threats that women and girls are exposed to during a conflict. Conflict-related sexual violence is nowadays recognized as a systematic war tactic. Following the rape and murder of up to a half million women and children in the course of 100 days during the Rwandan civil war, the International Criminal Tribunal for Rwanda recognized mass rape during wartime as an act of genocide. Following the war in Bosnia, rape was also recognized as a form of torture in breach of the Geneva Convention and a violation of the law and customs of war. A further case dealt by the International Tribunal on former Yugoslavia and in connection to the Srebrenica genocide connected rape to ethnic cleansing.
The organizers of a webinar, the Coalition of Faith Based Organizations, the Sigmund Freud University, the Vienna Forum for Human Rights and the International Association for the Advancement of Innovative Solutions to Global Challenges, emphasize that following the Russian aggression against Ukraine, there have repeatedly been reports about on-going sexual violence against women. While it is still early to comprehend the full magnitude of the problem, it is beyond doubt that it occurs and there have already been a number of cases reported in the media worldwide.
To conclude Roman stated:
The written and customary body of International Humanitarian Law prohibits sexual violence, both in IAC and NIAC conflict situations.
The 1949 Geneva Convention notes the need to protect the honor of women. The second additional protocol of 1977 to the Geneva Convention lists prohibitions which include "outrages against personal dignity, rape, enforced prostitution and any form of indecent assault" at any time and any place when committed against persons who did not take part in hostilities. The Statute of the International Criminal Court includes rape and some other forms of sexual violence in the list of war crimes.
The infliction of sexual violence upon enemy civilians, combatants and persons accompanying them, along with POW (prisoners of war) is prohibited.
All cases of sexual violence should be reported, investigated and prosecuted. CCL condemns and call for the end of conflict-related sexual violence.