14.04.2022
Euromaidan SOS together with PROBONO.BY created and launched a unique information hub – PROBONO.HELP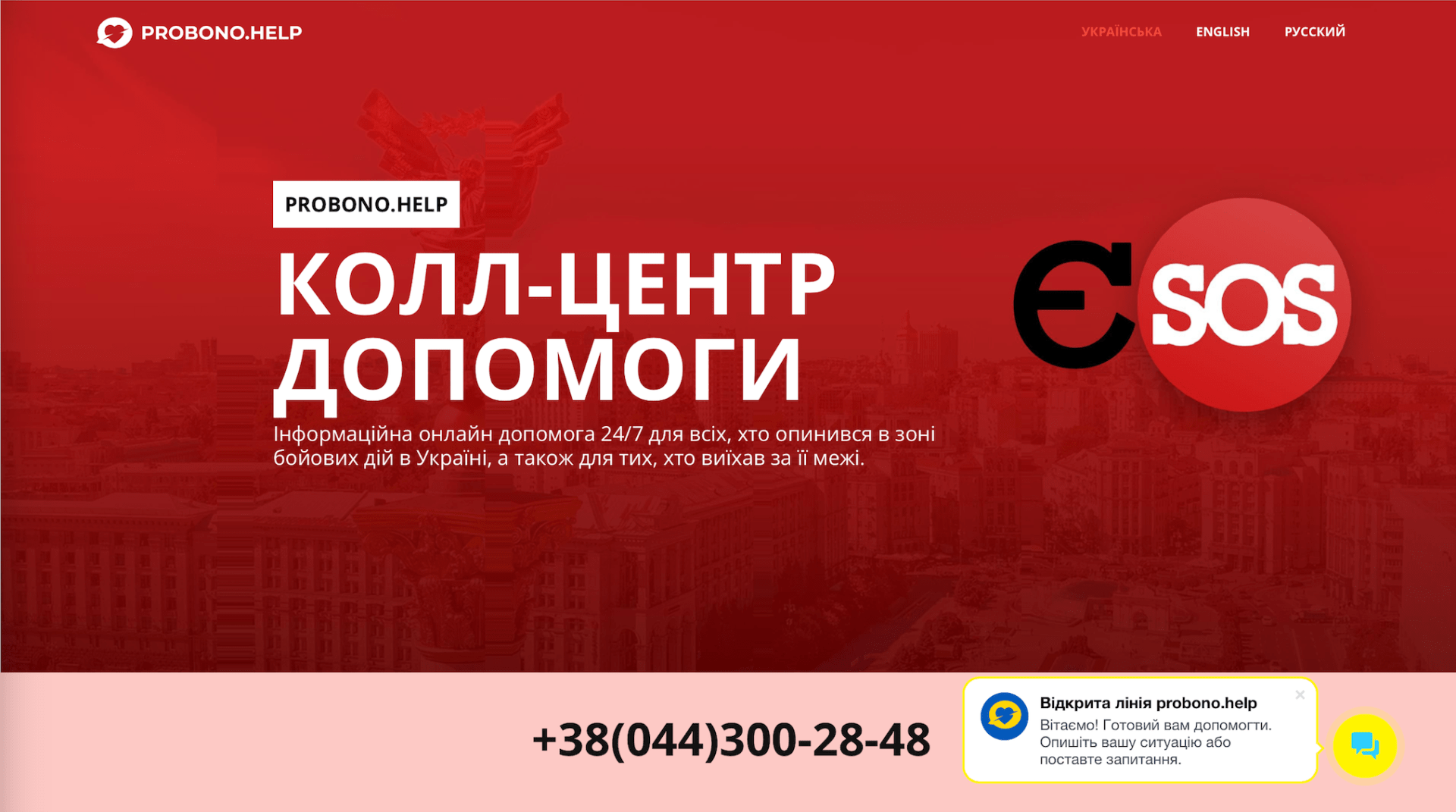 During the war, hundreds of news channels generate thousands of messages, information changes so fast that it is difficult to find and track current data, and its search can take hours.
Euromaidan SOS together with PROBONO.BY (Belarus) has launched a contact center to help everyone who needs to quickly find relevant and up-to-date information on various issues that arise.
On February 24, Euromaidan SOS started forming the Map of Initiatives, which has accumulated in launching the "Euromaidan SOS" chatbot. In order to enhance our communication with the victims, we joined forces with our Belarusian colleagues ROBONO.BY, who had a successful experience of organizing a contact center in Belarus during the mass protests in 2020.
Therefore, PROBONO.HELP is a 24/7 contact center that brings together people who need help and those initiatives that can provide such help. The coordinators of the center are Euromaidan SOS and Probono.By.
The contact center is designed in such a way that enables people to quickly get the information or contacts they need.
PROBONO.HELP can be contacted by anyone:
who needs help and can provide it;
who is in the war zone in Ukraine;
who has already crossed the border with Ukraine and is now safe;
who does not know where to find help.
If a person is in Ukraine, PROBONO.HELP helps to find information and contact initiatives that deal with:
* evacuation within and outside Ukraine;
* psychological help and counseling;
* medical care and consultation;
* legal assistance;
* other help.
PROBONO.HELP helps people who have left Ukraine to find information about initiatives and assistance funds on:
* transport;
* housing;
* food and basic necessities (clothes, hygiene products);
* medical care;
* psychological assistance.
We will be grateful if you spread the information about the contact center on your resources, and we will direct our users to you according to their needs.