28.09.2022
Civilian Hostages and the Role of Civil Society in Protecting Human Rights of the Missing and Disappeared Civilians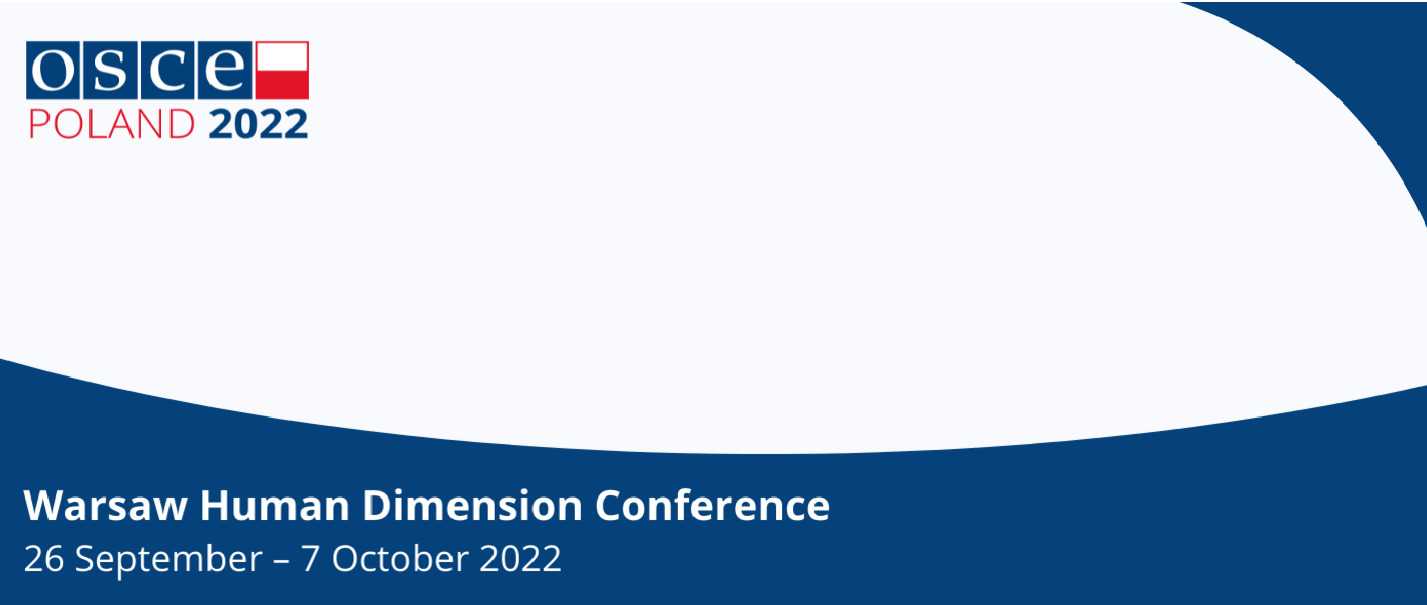 On Tuesday, September 27, 2022, as part of the Warsaw Human Dimension Conference, a panel discussion was held on the topic: Civilian Hostages and the Role of Civil Society in Protecting Human Rights of the Missing and Disappeared Civilians, and in Finding the Ways to Accountability and Justice.

The Center for Civil Liberties, American Bar Association's Center for Human Rights and Truth Hounds are co-organized this side event to present a new report which identifies several cases of disappeared HRDs and civil hostages, outlines legal analysis of the violations of international law, and offers recommendations for the international community, human rights organizations, and local government. At this event, a first-hand account from survivors and the local experts who are documenting these disappearances was presented, and recommendations from international experts on how we can better support these efforts and better ensure accountability.

The Russian invasion of Ukraine caused chaos with devastating results of destruction, displacement, and massive loss of life. Amid this despair, there are reports of many cases where human rights defenders (HRDs), journalists, activists, and civilians appear to be targeted by Russian forces because of their work and activities. The victims were kidnapped, disappeared, detained, tortured, and in some instances forcefully relocated outside of Ukraine. While many have died in captivity, those who managed to escape have given first-hand accounts of their experiences. Others remain missing with their whereabouts unknown.
Ukrainian and international human rights advocates and civil society organizations have been methodically documenting these violations of domestic and international law in order to support the victims and bring accountability for these crimes. The experts working on these efforts support urgent calls for additional coordinated responses from the global community to ensure proper investigation and prosecution of these cases in order to bring the perpetrators to justice.

Video recording of the panel.
"Taking civilian hostages is a grave violation of international law and international humanitarian law. This crime violates fundamental individual rights—the right to life, to liberty and to security".

"Taking of hostages is considered as an exceptionally serious war crime and as a serious violation of the principles and rules of international law applicable in armed conflict. Furthermore, under domestic legislation in each country murder, kidnapping, abduction and extortion are regarded as extremely serious crimes and are punished severely".

Oleksandra Drik, civil activist, adviser to the Minister of Defense of Ukraine (2019—2020), Center for Civil Liberties coordinator for international cooperation.

During his speech, Evgen Zakharov emphasized that "to date, the database of the initiative "Tribunal for Putin" contains more than 20,300 episodes of war crimes. In particular, we recorded more than 2,500 victims of disappearance. We classified 765 cases as enforced disappearances when no information was provided on the whereabouts of the victims. These data indicate that the disappearance of people is one of the components of the policy of the occupation authorities. Mass enforced disappearances are qualified by the Rome Statute of the International Criminal Court as a crime against humanity".
"Among other civilians hold as a prisoner with the reasoning of "filtration measures", the non-legal practice implemented by Russia in violation of the Geneva Conventions. In the filtration camps, people are searched and interrogated, men are stripped for tattoos, scars and calluses from carrying weapons. By doing so, occupiers hunting volunteers, and civil activists".
Evgen Zakharov, Director of the Kharkiv Human Rights Group, Kharkiv, Ukraine
Speakers:
– Oleksandra Drik – Coordinator for International Cooperation, Center for Civil Liberties, Kyiv, Ukraine
– Prof. Michael Newton – Director of the International Legal Studies Program and Professor of the Practice of Law, Vanderbilt University, Tennessee, United States
– Evgen Zakharov (via zoom) – Ukrainian Human Rights Defender, Member of Ukrainian PEN, and Director of the Kharkiv Human Rights Group, Kharkiv, Ukraine
– Arkadij Dovzhenko – Ukrainian Defender* (via zoom)
– Iryna Vasilyeva – Ukrainian Defender* (via zoom)
– Jasmine D Cameron (Moderator) Senior Legal Advisor, ABA Center for Human Rights
Event flyer and Facebook page.

*The term 'human rights defender' is intended to refer to the broad range of activists, journalists and independent media professionals, scholars, writers, artists, lawyers, civil and political rights defenders, civil society members, political prisoners and their relatives fighting for their release and others working to advance human rights and democracy around the world.