08.10.2022
Oleksandra Matviychuk`s speech at the press conference dedicated to the 2022 Nobel Peace Prize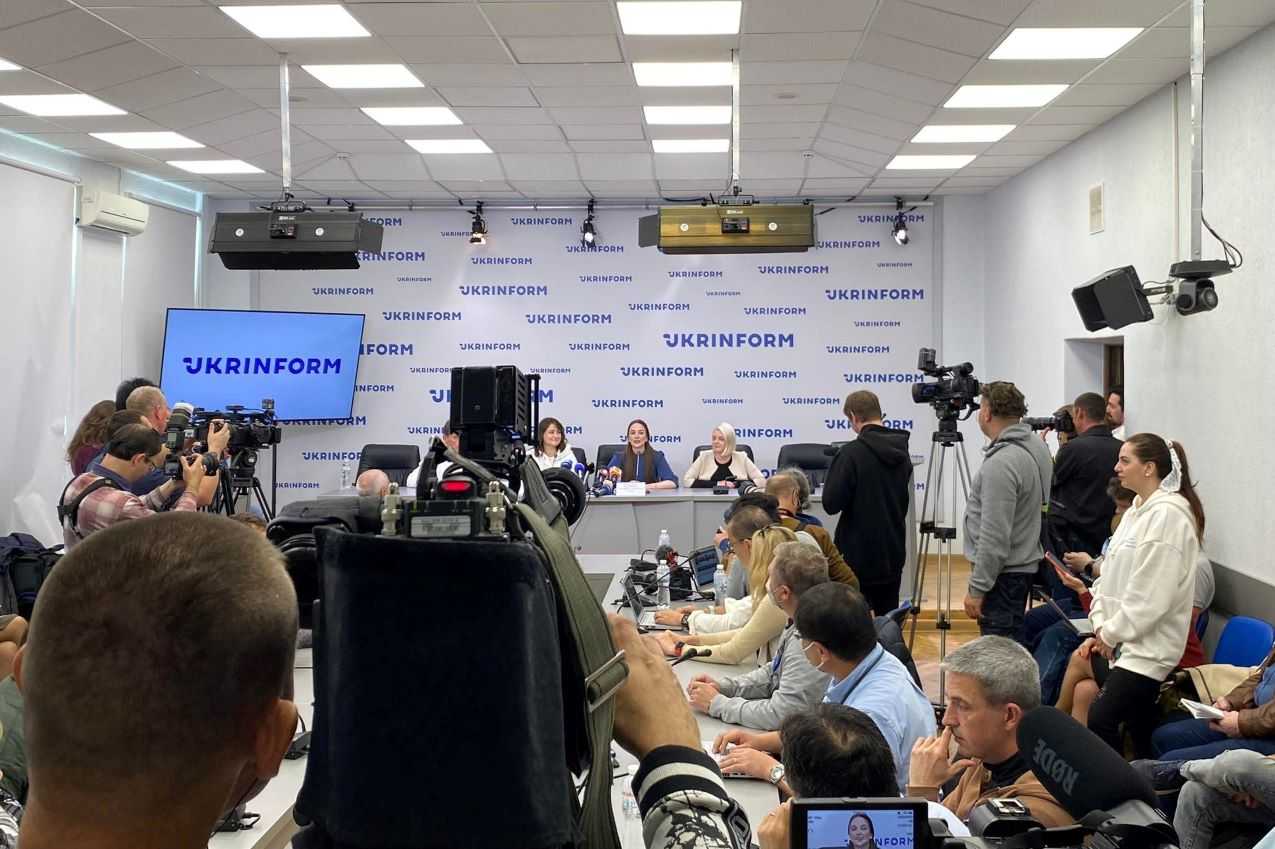 My name is Oleksandra Matviychuk. I am the head of the Center for Civil Liberties.
Yesterday, the Center for Civil Liberties won the Nobel Peace Prize.
Some say that the Ukrainian people should have received this award. I am proud that this is exactly what is happening. The Center for Civil Liberties is a volunteer-driven organization.
This Prize is awarded not only to our team and people who have worked with us all these years.
The Nobel Peace Prize is awarded to all people in Ukraine who are currently fighting for freedom in all its senses.
For the freedom to be a free and independent state. For the freedom to develop the Ukrainian language and culture. For the freedom to have one's own democratic choice and to build a country in which the rights of every person are protected, the government is accountable, the courts are independent, and the police do not beat peaceful student demonstrations.
During the Revolution of Dignity, the Center for Civil Liberties launched the Euromaidan SOS initiative to help persecuted protesters across the country only because several thousand people joined us.
Thanks to support of the people, the Center for Civil Liberties was the first to send mobile teams to document war crimes in Crimea, Donetsk and Luhansk regions.
Thousands of people around the world supported our international #SaveOlegSentsov campaign and held demonstrations and other events in more than 35 countries to free film director Oleg Sentsov and other political prisoners.
I would not wish anyone to live through war, but this difficult time gives us all the opportunity to show our best – from the farmer who's tractor pulled a Russian tank to the president of the country who refused to leave Kyiv. Now more than ever, we feel what it means to be human.
Russia should be expelled from the UN Security Council for systematic violations of the UN Charter. All these decades, Russia committed war crimes in Chechnya, Moldova, Georgia, Syria, Mali, Libya, and Ukraine.
The UN and member states must ensure justice for all victims of war crimes and establish an international tribunal to bring Putin, Lukashenko and all war criminals to justice.
Ukraine never abandons its people, and that is why we are fighting for the complete liberation of the occupied territories. We at the Center even today fighting for the release of all people from the Russian captivity.
Among them, Server Mustafaev, Crimean Tatar, coordinator of Crimean Solidarity. Viktoriya Obidina, a military medic, who was separated from her 4-year-old daughter during the evacuation from AzovStal. Lyudmyla Huseynova, who protected orphaned children during the occupation and was sentenced to prison for that. And thousands of other Ukrainian military and civilians.
We call on the international community to become their voice and join us in seeking their release. As well as the release of all political prisoners who fought against the authoritarian regimes in Russia and Belarus.
All my 20 years of experience fighting for freedom and human rights convincingly show that people have much more influence than they think. All our achievements are thanks to them.
And finally, about the importance of calling a spade a spade. Russia, which has not overcome its imperial complexes, is a threat to Ukraine and the whole world. Just like Belarus, because Lukashenko's regime surrendered its own country to occupation.
Ales Bieliatskyi, Valentin Stefanovych, Marfa Rabkova from Vyasna, Oleg Orlov, Svitlana Hannushkina, Oleksandr Cherkasov, Serhii Davidis from the Memorial for me and the Center for Civil Liberties are people with whom we have been fighting against this threat side by side for many years.
Now Ales Bieliatskyi is behind bars, and the Memorial is banned.
This story is about resistance to common evil, about the fact that freedom has no borders, and the values ​​of human rights are universal. That human rights defenders build invisible horizontal connections in their societies to assert freedom and protect people in our part of the world, in which a monster is once again trying to rule. And who will lose sooner or later. And then peace will come.
In no way should this award sound like an old narrative about fraternal nations. This story is about something else. This story is about the motto that I heard from my teacher, dissident and philosopher Yevhen Sverstyuk – "For our freedom and yours"