15.02.2019
Human rights and media organizations call the SBU to stop non-transparent Internet banning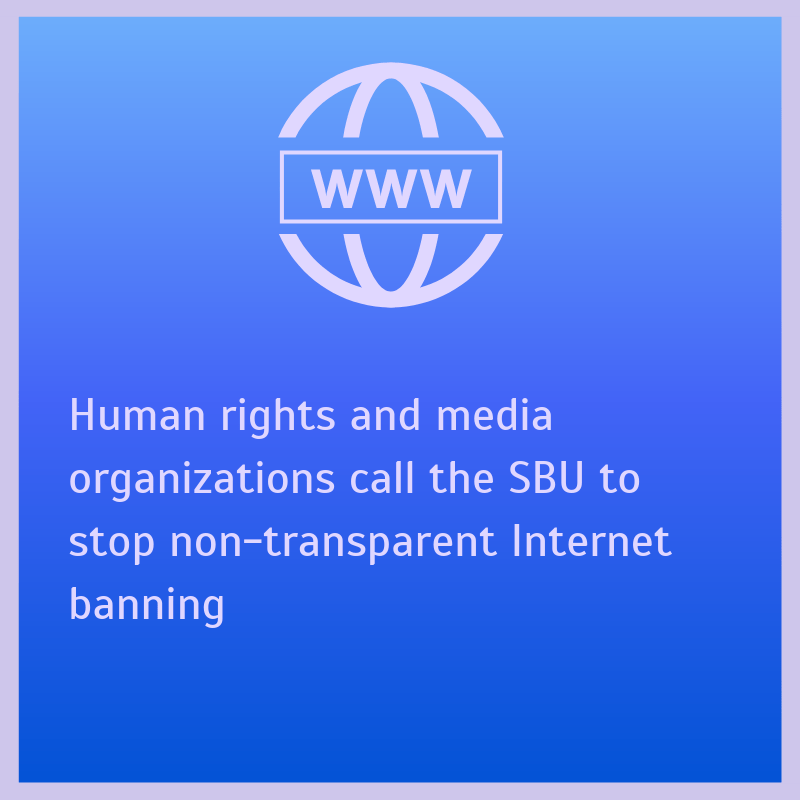 The Security Service of Ukraine (SBU) is about to block 100 more websites through economic sanctions. FreeNet Ukraine Coalition, human rights and media organizations call to stop unlawful Internet restrictions and to use legal and transparent methods to counter Russian propaganda and cyberattacks.
On 11 February 2019, the Director of Department for Counter-Intelligence Protection of the National Information Security Interests of the SBU Oleksandr Klymchuk claimed that the Presidential Decree would be signed soon to enact the Decision of the National Security and Defense Council (NSDC) to block 100 more websites.
In autumn 2018, the FreeNet Ukraine Coalition tried to find out the criteria used to select the websites/resources subject to banning. However, both the NSDC and the SBU refused to provide clarifications. The District Administrative Court of the city of Kyiv is currently reviewing the case on violation of the right to public information. The NSDC and the SBU did not provide the court with any justification to refuse such information, either.
The effectiveness of blocking the websites as a way to counter Russian propaganda is very disputable because Ukrainians almost never visit these websites to seek information. For example, the Detector Media research conducted prior to adoption of the Presidential Decree on blocking some 200 websites proved that only 0.5% Ukrainians visit Russian websites and only 0.1%, the websites of the so-called "DPR" and "LPR."
Website banning has nothing to do with the protection of critical infrastructure from cyberattacks, as repeatedly noted by cyber security experts and professional associations.
At the same time, the non-transparent mechanism of Internet banning is the violation of Ukrainian laws and international instruments.
The President has enacted two decisions of the NSDC on sanctions (#133/2017 and #126/2018) that inter alia forbad "the Internet providers to provide users with access to web-resources/services." The procedure of selecting the websites "to be banned" is completely non-transparent.
Earlier, the FreeNet Ukraine Coalition published legal analysis of economic sections in terms of forbidding "the Internet providers to provide users with access to web-resources/services, including to sub-domains."
The statement is signed by:
FreeNet Ukraine Coalition members:
Human Rights Platform

Digital Security Lab Ukraine

Human Rights Information Center

Crimean Human Rights Group

Freedom House in Ukraine

Mykola Kostynyan
and:
Katerina Sergatskova, media project Zaborona
Center for Civil Liberties
Institute of Mass Information
Detector Media
GURT Resource Center
Donetsk Institute of Information
NGO Fulcrum UA