24.03.2022
Euromaidan SOS Appeal to the Foreign Affairs Ministers of Democratic Countries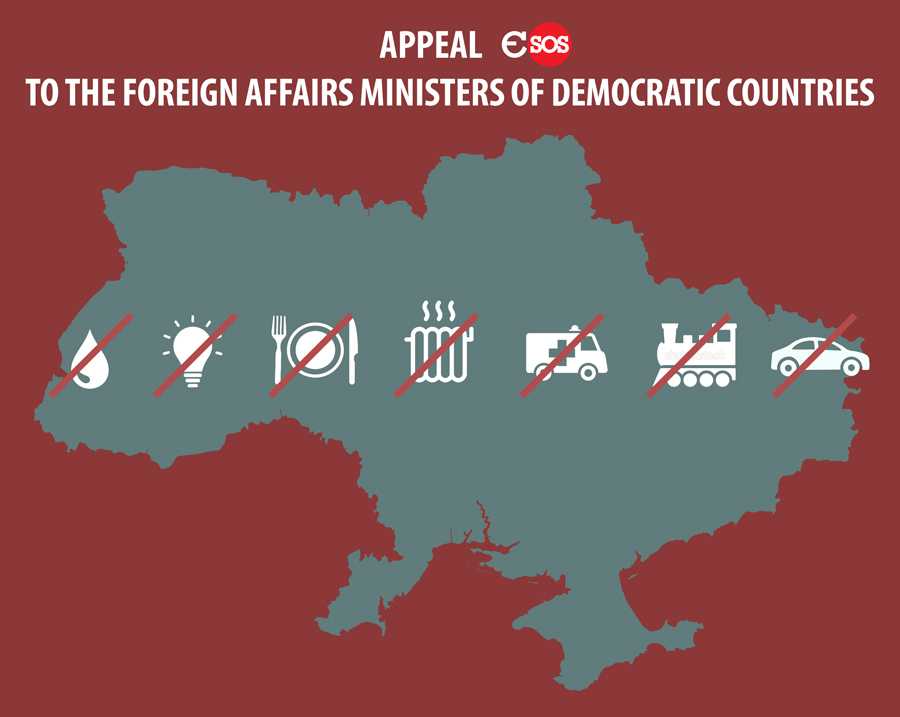 We have been witnessing a humanitarian crisis occurring in Ukrainian cities, villages, and settlements destroyed by the Russian troops.
Mariupol and Izyum are surrounded by Russian armed forces, who have been thwarting attempts of the Ukrainian side to deliver humanitarian aid and evacuate civilians for several weeks. Residents of these cities, as well as Volnovakha, Irpen, Ivankiv, Bucha, Hostomel, Chernihiv, etc. live in de-energized settlements, where there are also disruptions in the water and gas supply and mobile communication. In Chernihiv, Russian troops bombed the road bridge connecting Chernihiv with Kyiv, leaving the city almost isolated. This bridge has been used by evacuation groups from Chernihiv and for humanitarian aid delivery to the city.
Russia's failure to comply with the ceasefire does not allow local services working to restore urban livelihoods. In Mariupol, where, according to local authorities, 80% of the housing have been destroyed, it is impossible to restore the infrastructure.
Due to the besieging, there is a catastrophic shortage of drinking water, food and medicine in these cities.
In violation of the Geneva Conventions, the Russian Federation does not allow opening of humanitarian corridors, safe passage of civilians from the most dangerous areas of active hostilitiesб and delivery of humanitarian goods.
Manolis Andrоulakis, the Greek General Consul in Mariupol, had spent two weeks in Russian-occupied Mariupol and witnessed a humanitarian crisis in the city. After his return to Athens and report to colleagues, Greek Foreign Minister Nikos Dendias announced his intention to personally accompany the humanitarian aid mission to Mariupol in coordination with Peter Maurer, President of the International Committee of the Red Cross.
We welcome such an initiative by the Greek Foreign Minister and call on the Foreign Ministers of other states to join humanitarian missions to Ukrainian cities most affected by the fighting and blockade. Your involvement in the delivery of humanitarian goods to these cities and the evacuation of civilians from there can save lives of hundreds of thousands of Ukrainians.

To join the list of signatories of this appeal, please fill out the following form.
This appeal has been signed by:

Center for Civil Liberties
Advocacy Advisory Panel
All Ukranian Association "Automaidan"
All-Ukrainian public movement of mothers and relatives of ATO participants "Berehynia"
Ilko Kucheriv Democratic Initiatives Foundation (DIF)
NaUKMA School for Policy Analysis
Save Dnipro
Charitable Foundation Citizens
Open Universuty of Maydan
Open Orthodox University
Directors Guild of Ukraine
PB LIGA, LGBT Association
NGO "Country of Free People"
NGO "Helsinki Initiative-XXI"
NGO "Public Television"
NGO "Women's Anti-Corruption Movement"
NGO "For Myself"
NGO "Human Rights Platform"
NGO Ideas for Change
Human Rights Center ACTION
Regional Centre for Human Rights
Ternopil Film Commission
Ukrainian World
NGO "What You Have Done"
Donetsk Institute for Social Research and Political Analysis
Democracy Development Center
Platform for Women's Consolidation
Oriental Studies Circle
Ukrainian Crisis Media Center
NGO All-Ukrainian Civic Platform
"Crimean Center for Business and Cultural Cooperation" Ukrainian House
NGO "Nashe Podillya"
Center for Social Transformations
Irshavsky Rays NGO
NGO "My Voice"
NGO "Centre of Gender Culture"
Civil Network OPORA
NGO "PolitUP"
Human Rights Association "Right Cause"
DRA e.V.
Ukrainian National Center for Peacebuilding
Environment People Law (EPL)
Zhovid Residence
Civic Space Cente
New Europe Center
Insight
Civil Society Non-profit Organization ISAR "Ednannia"
Institute of Church and Society
Caritas Ukraine
Crimea SOS
East European Development Institute
Republic Institute
Liberal Democratic League of Ukraine
Digital Security Lab Ukraine
Luhansk Regional Human Rights Center "Alternative"
LLC "T-DIGITAL"
LLC "TRUMAN LTD"
Ukraine International Center "Direct Initiative"
ANTS network
Youth for Christ – Ukraine
Educational Human Rights House Chernihiv (EHRHC)
Black Sea Research Society
CHESNO Movement
Bader Ukraine LLC
Ukraine Analytica
Ukrainian Helsinki Human Rights Union
Ukrainian Christian Evangelical Church
Ukrainian Institute of Human Rights
Fridtjof Nansen Fund
DEJURE Foundation
Manoff Foundation
Kharkiv Human Rights Protection Group
Centre for National Resilience and Development
Centre for Social and Gender Research "New Life"
Centre for Global Studies Strategy XXI
Centre of Public Initiatives "Ideas for Change"
Center on the research of liberation movement
ZMINA Human Rights Centre
Zentrum Liberale Moderne
Signatories in an individual capacity:
Attorney Belous
Attorney S. Shutyak
Lawyer O. Derenivska
Judge A. Bushchenko
USAID Strategic Communications Lead
O. Ilyasevych-Bogorodova
Citizen A. Anosov philosophy student