03.09.2021
Appeal for defense of the co-founder of the Belarusian human rights organization «Human Constanta» Nasta Loika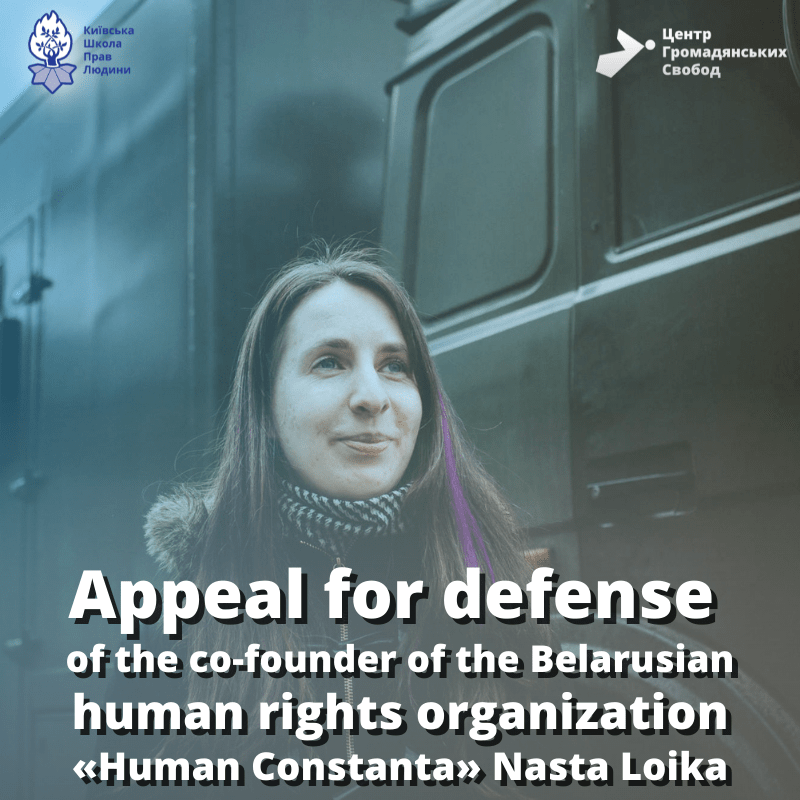 Dunja MIJATOVIĆ
Commissioner for Human Rights
Parliamentary Assembly of the Council of
Europe
Rik DAEMS
President of the Parliamentary Assembly
José BADIA, Kimmo KILJUNEN,
Miroslava NĚMCOVÁ, Theodora
BAKOYANNIS, John HOWELL, Gusty
GRAAS, Laima Liucija ANDRIKIENĖ,
Nicole TRISSE, Zsolt NÉMETH, Ahmet
YILDIZ, Andreas NICK, Petr TOLSTOI,
Arkadiusz MULARCZYK, Oleksandr
MEREZHKO, Lars Aslan RASMUSSEN,
Irakli KOBAKHIDZE, Vlad BATRÎNCEA,
Marta GRANDE, Ria OOMEN-RUIJTEN,
Vice-Presidents of the Parliamentary
Assembly

APPEAL
from partners of the international human rights educational programme of the Kyiv School of Human Rights and Democracy
The Belarusian authorities have initiated criminal proceedings against Nasta Loika, the co-founder of Human Constanta, the Belarusian human rights organization. Nasta was detained for 72 hours 13 on August 2021: she is currently under recognisance not to leave and an obligation to appear. The criminal proceedings were initiated under an absurd pretext of "aiding tax evasion" by senior officers of Viasna Human Rights Centre. Like many similar ones in Belarus, this politically motivated criminal case is designed to eradicate the Belarusian people's aspirations for democracy. Repression has become wide-scale in this country. According to Viasna Human Rights Centre, 631 persons have been unfairly incarcerated.
Nasta Loika is a well-known human rights activist, expert in the field of human rights education, partner of the international human rights educational programme of the Kyiv School of Human Rights and Democracy. Together with Nasta, we are working to advance human rights values in the post-Soviet space. Nasta's personal contribution to the protection of human rights and dissemination of knowledge about these rights in the region is extremely valuable. Nasta Loika is guided in her activities by the principles of legitimacy and social responsibility.
Repression against Nasta represents yet another attack on human rights activists by the Belarusian authorities. This criminal case grossly violates the United Nations Declaration on the Right and Responsibility of Individuals, Groups and Organs of Society to Promote and Protect Universally Recognised Human Rights and Fundamental Freedoms. We would like to remind you that, under this Declaration, "Each State has a prime responsibility and duty to protect, promote and implement all human rights and fundamental freedoms."
We hereby request that the Parliamentary Assembly of the Council of Europe demand from the authorities of the Republic of Belarus:
Termination of criminal prosecution of Nasta Loika, our colleague and human rights activist.
Discharge of its international human rights obligations, i.e., release of all persons deprived of liberty for political reasons and putting an end to political repression.
Termination of interference with the human rights activities of Belarus civil society organizations.
Signatures:
Centre for Civil Liberties (Ukraine)
Youth Information Service of Kazakhstan (Kazakhstan)
Helsinki Citizens' Assembly — Vanadzor (Armenia)
Barys Zvozskau Belarusian Human Rights House (Lithuania/Belarus)
Human Rights Centre of Azerbaijan (Azerbaijan)
VAYFOND Chechen Human Rights Association (Sweden)
Civic Assistance Committee (Russia)
Public Human Rights Organisation in St Petersburg (Russia)
Kazakhstan International Bureau for Human Rights and Rule of Law (Kazakhstan)
Kylym Shamy Human Rights Centre (Kyrgyzstan)
DRA German-Russian Exchange
Helsinki Citizens' Assembly — Vanadzor (Armenia)
Bir Duino-Kyrgyzstan Human Rights Movement (Kyrgyzstan)
National Association of Charitable Organizations (Russia)
Maximum Information Agency ANPO
Kazakhstan International Bureau for Human Rights and Rule of Law
Public Verdict Foundation (Russia)
From Dream to Action Advocacy Organisation (Ukraine)
Politzek.me, a project to support political prisoners and their families in Belarus
Centre for Sociolegal and Environmental Initiatives SRAO (Russia)
SOVA Expert Group, an advocacy organisation (Russia/Ukraine)
Europe Without Dictatorships Civic Online Initiative (Belarus)
Open Society of Ukraine, a civil society organisation