Ordinary people who do extraordinary things. Devoted to Ukrainian volunteers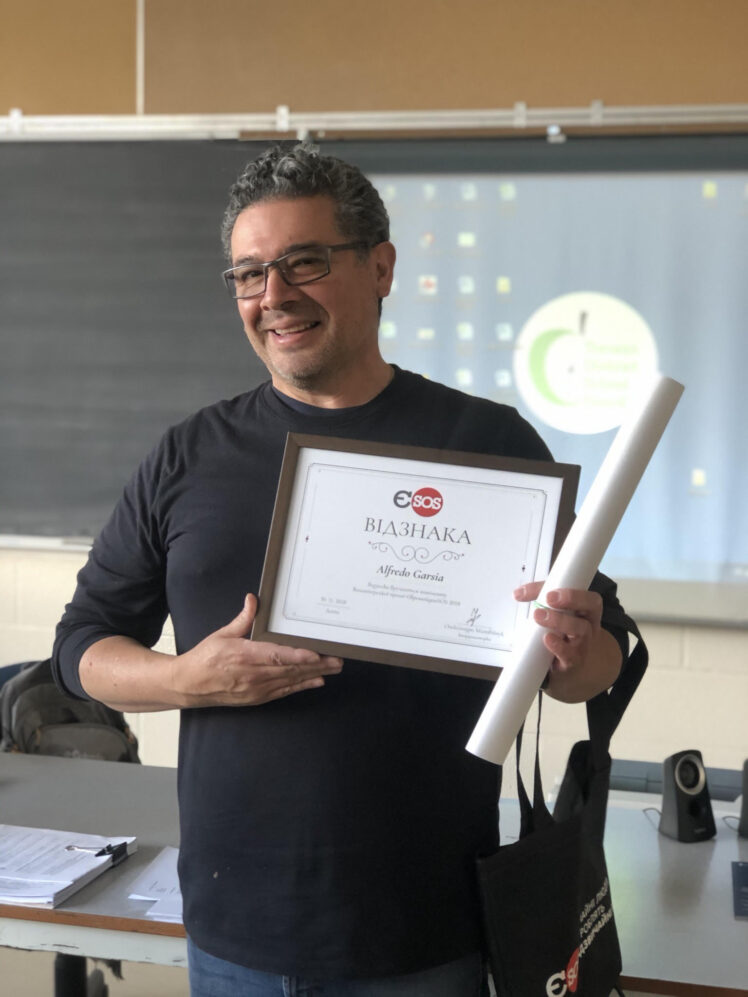 Alfredo Garcia (Euromaidan Volunteer Nominee 2018)
Canadian teacher, pro-Ukrainian activist, language instructor with 20 years of experience facilitation student driven and instructor generated curricula, modules, and lesson plans.
Alfredo works for The Toronto District School Board (TDSB), one of the largest and one of the most diverse school boards in Canada. We serve approximately 247,000 students in 583 schools throughout Toronto, and more than 130,000 life-long learners in our Adult and Continuing Education programs. Please feel free to find more details following next link: https://www.tdsb.on.ca/About-Us
In the past I shared with Mr. Garcia the latest Ukrainian historical moments of Revolution of dignity and Russian Aggression later and he offered help to support people in Ukraine. I suggested him to share 1-2 hours his time per week to provide free English classes kids and adults.  Finally we selected best students in Ukraine: one children group and one adult (mostly individuals whose lives were affected by Revolution and War: military family, volunteers).
Our initiative has started in February 2018 and this projects still going in. Alfredo constantly every week dedicate 2 h of his own life time to teach English for Ukrainian students  and we have a great success, now both group are able to study without me as a translator, they can communicate and interact with native speaker and 100 % Canadian professional teacher.
Dear friends,would be great to gain and develop the friendly relationship, initiatives and partnership with motivated people and organization that are located abroad and willing to help and put human effort to support people in Ukraine around Russia's hybrid war against Ukraine.
If you would share this information on Ukrainian (English) mass media I could transfer it also to Canadian mass media and Toronto Municipality to make this story read.
Thank our big friend abroad for supporting Ukrainians in Ukraine.