13.06.2023
Exploring the Future of Human Rights Documentation: Highlights from RightsCon 2023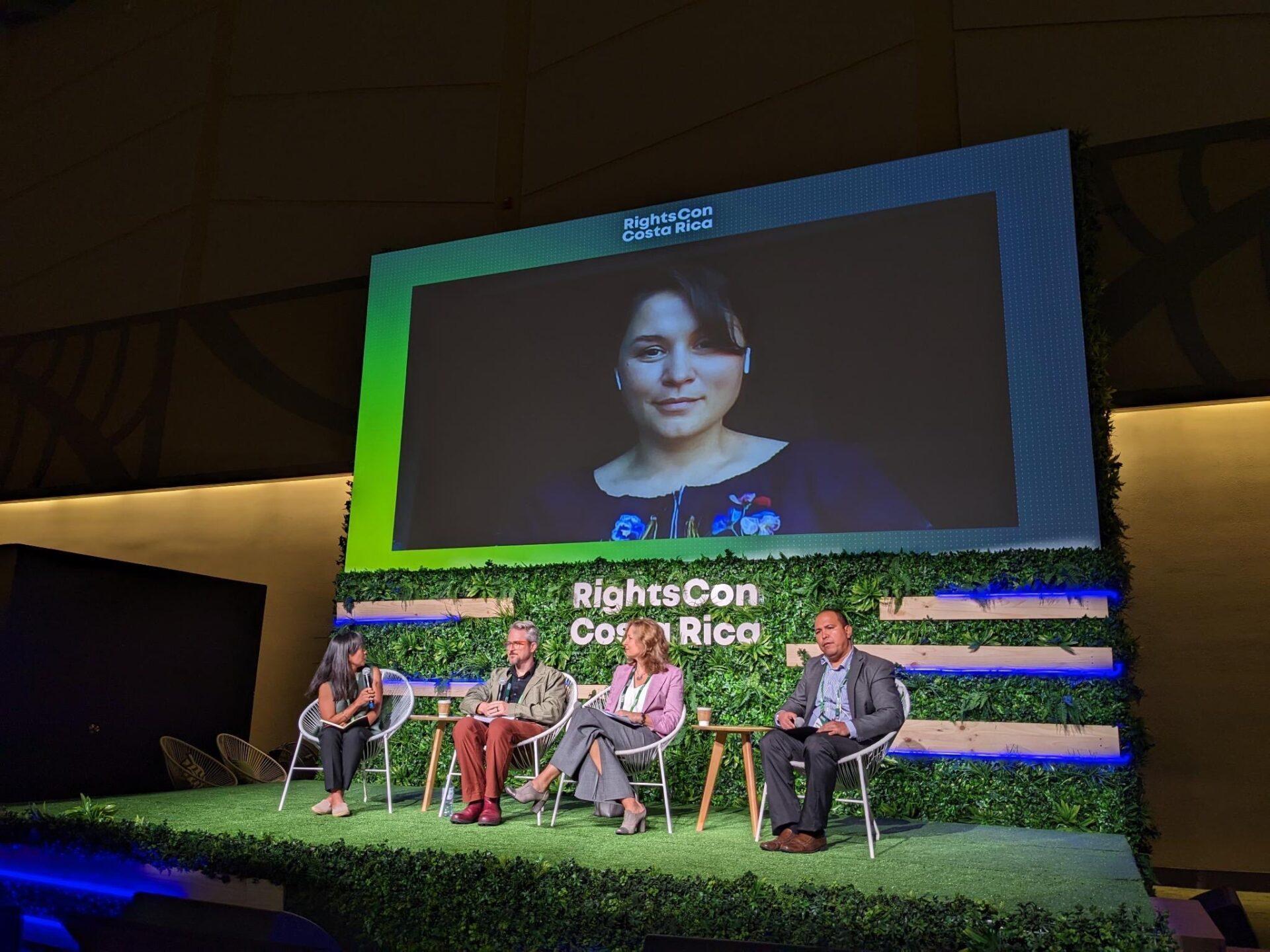 June 5-9, 2023, Costa Rica – RightsCon is the world's leading summit on human rights in the digital age.
Sasha Romantsova Center for Civil Liberties Executive Director participated in the 'The Future of Human Rights Documentation' panel at this year's RightsCon conference organized by HURIDOCS.
Panelists:
Carlos Alberto Guadamuz Hernández
Miembro del Colectivo Nicaragua Nunca Más
Sam Gregory
WITNESS
Sasha Romantsova (online)
Center for Civil Liberties
Beth Van Schaack
US Ambassador-at-Large for Global Criminal Justice
Session description:
Documentation is central to human rights work as it enables, supports, and shapes mechanisms around various forms of justice. From pursuing accountability to ensuring remembrance, documentation provides evidence and narratives integral to truth, justice, and healing. It has been 40 years since the human rights defenders first assembled to discuss in detail how to harmonize their documentation practices and explore how information technologies can support such work. Today, we continue to face long-standing human rights issues while contending with emerging ones. Documentation remains vital and new technologies provide possibilities as well as threats to our work.
This session aims to spark thought-provoking discussions that reflect on the history, the current landscape, and the future of human rights documentation. Providing a diverse range of perspectives from leaders in the human rights field, the session will tackle related issues such as the use of machine learning and big data in human rights information management, the emergence of social media in evidentiary investigations, the tensions and risks of under- and over-documentation, and the ever-growing precarity of documentation work under regimes, wars, and economic uncertainties. The conversation aims to draw from not only the legal registers of documentation, but also the ethical dimensions, the technological possibilities, and the sociopolitical stakes at hand.
Together with the participants, the session aims to draw from experiences, take stock of our circumstances, and set a human rights documentation agenda that we can collectively pursue.
In 2011, Access Now hosted the first-ever RightsCon (then the Silicon Valley Human Rights Conference). We met with the intention to create something different: a civil society-led space where all stakeholders – from tech companies to government representatives to human rights defenders – could come together to build a rights-respecting digital future. Since then, RightsCon has rotated between five continents and grown, both in size and in scope to meet the evolving needs of a movement.
RightsCon, the world's leading summit on human rights in the digital age. RightsCon 2023 will build on the success of Access Now most recent event, with 10,000 participants from 150 countries projected to attend both offline and online. By the way, Maria Ressa, 2021 Nobel Peace Prize winner, is a RightsCon regular.
This conference, hosted by Access Now, brought together activists, artists, technologists, business leaders, policymakers, journalists, and more to discuss human rights in the digital age. RightsCon'23 was for the first time hosted as a hybrid event that took place both online and in-person in San José, Costa Rica, from 5–8 June 2023.
When it comes to the internet, the focus is often directed toward what lies ahead – new technologies, emerging threats, and unexplored opportunities. This can be seen in the current discussions surrounding generative artificial intelligence tools like ChatGPT, where both the risks and possibilities are explored. However, it is equally important to pause and consider: What kind of digital future do we desire? How can we ensure that new technologies uphold human rights? Within RightsCon'23, a space led by civil society, stakeholders of various backgrounds can convene to deliberate on the present and gain insights into building a collective and desired future.
Background Note:
Access Now defends and extends the digital rights of people and communities at risk. By combining direct technical support, strategic advocacy, grassroots grantmaking, and convenings such as RightsCon, we fight for human rights in the digital age.
HURIDOCS (Human Rights Information and Documentation Systems) develops tools and strategies that make human rights information accessible.
HURIDOCS helps human rights groups gather, organise and use information for justice and accountability. Since 1982, we have developed methodologies and tools that make it easier not only to manage collections of evidence, law and research, but also to analyze them for insights. In all that time, the technology has evolved but our passion for the cause remains unchanged. Information is a force for good—as long as human rights defenders are able to safely and efficiently make sense of it.