21.03.2022
Appeal of the Euromaidan SOS regarding the immutability of the selected Ukrainian course towards democracy, the rule of law and human rights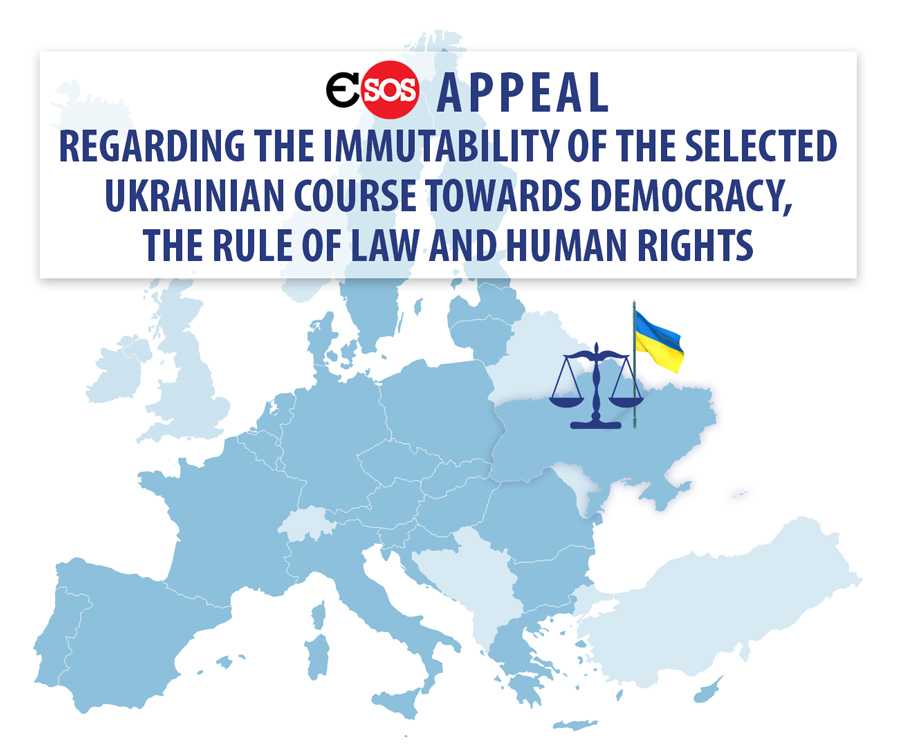 Some of the experts and politicians outside of Ukraine begin to voice statements that Ukraine must accept the compromises which favor Russia in order to avoid even more casualties. The authors of these statements also echo the Russian narrative, that Russia is only worried about its own safety in the region.
Such calls only encourage Russia to continue the aggressive war, which results in deaths among civilians and destruction of civil infrastructure. Over the two weeks of negotiations, Russian armed forces continued shelling schools, kindergartens, churches, residential buildings, hospitals, theaters, and humanitarian corridors without interruption.
Full-fledged Russian armed aggression in Ukraine is a result of a weak response of the World to the Kremlin's war crimes in the past. Every time when the West turned a blind eye on unlawful Russian actions on the territories of Moldova, Georgia, Syria, it only encouraged the Kremlin to commit new acts of violence.
Moreover, when the Russian Federation committed aggression against Georgia, key countries of Western Europe supported the Russian project Nord Stream, and when Russia occupied Crimea and parts of Donetsk and Luhansk regions of Ukraine, they chose to take part in the Nord Stream 2 instead of applying powerful sanctions. Now the world has reached the point of no return: if Russia is not stopped in Ukraine, the war would have to be fought on the territory of the EU and NATO.
Ukraine has made its sovereign choice 30 years ago when it freed itself from Soviet totalitarianism. The Ukrainian people confirmed this democratic choice during the Revolution of Dignity, when they went to the streets with peaceful mass protests to defend this choice and paid a high price for it. Back then, unarmed people were shot dead in the very center of the capital Kyiv. When the authoritarian regime fell, Russia occupied Crimea and started a hybrid war in Donbas in order to stop Ukraine on its path of democratic transformation. All of this only confirms that Putin is afraid not of NATO. Putin is afraid of the expansion of the idea of freedom.
Ukrainians will not be abandoning values of freedom, democracy, and human rights even under the threat of the continuation of the war with Russia as they know their high price.
In this war with Russia Ukrainians are fighting for the right to have their own democratic choice. They are ready to continue the fight for the right to build their country where the government is accountable to people, courts are independent, rights of every human being are protected, and the police are not beating peaceful protesters.
Voices of select foreign experts and politicians who are suggesting to abandon our democratic choice, independence and sovereignty, in order to find a compromise with Russia sound shameful and reprehensible in a situation where Ukrainians are sacrificing their lives for it.
They do not name the price of this "compromise" for the Ukrainian people and its future. The actions of these experts only encourage Russia to continue its armed aggression which obviously is not going to stop within the territory of Ukraine.
This appeal has been signed by:
Center for Civil Liberties
Advocacy Advisory Panel
Association of Jewish Organizations and Communities (VAAD) Ukraine
Bader Ukraine LLC
All-Ukrainian association "Avtomaidan"
Open Orthodox University
Vynnytsia NGO "Informational and educational center VIS"
NGO LGBT Association "LEAGUE"
NGO "Bakhmat"
NGO "All-Ukrainian organization of persons with disabilities "VALID"
NGO "All-Ukrainian public movement of mothers and relatives of ATO participants "Berehynia"
NGO "Public Television"
NGO "Citizens of the Future"
NGO "Women's Anti-Corruption Movement"
NGO "Culture against rudeness" NGO "Polytap"
NGO "Regional Center for Human Rights" NGO "Ukrainian World"
NGO "Human Rights Platform"
Ukrainian Crisis Media Center  
Ukrainian National Environmental NGO "MAMA-86"
NGO "Center for Democracy Development"
NGO "Helsinki Initiative-XXI"
Ternopil Film Commission
European Movement Ukraine
NGO "Crimean Center for Business and Cultural Cooperation" Ukrainian House
Non-Governmental Organization "Crimean Center for Business and Cultural Cooperation" Ukrainian House
Public organization "Business Association We-Khersontsi"
Civic network OPORA
DP Sun Garden
Women's Veteran Movement
Owl Expert Group
European Expert Association
IAC "Public Space"
Republic Institute
Institute for Religious Freedom
All-Ukrainian initiative "Active Community"
Institute for Central Europe
Civil Society Non-profit Organization ISAR "Ednannia"
Internews Ukraine
Caritas Ukraine
Kyiv Security Forum
Kyiv Institute of Gender Studies
Congress of National Communities of Ukraine
Crimea SOS
Docudays UA
Digital Security Lab Ukraine
Luhansk Regional Human Rights Center "Alternative"
Youth non-political public movement "Impulse of Change"
Ukraine International Center "Direct Initiative"
NAKO – Independent Anti-Corruption Commission
Association of Relatives of Political Prisoners of the Kremlin
Human Rights Center ACTION
Black Sea Research Society
Regional Charity Foundation Resonance
Reform Promotion Center
Charitable Foundation "Human & Law"
Civil movement "Chesno"
Center of Economic and Legal Analytics
Ukrainian Compliance Association
Ukrainian Institute of Human Rights
Ukrainian Helsinki Human Rights Union
Ukrainian Association for Research in Women's History
DEJURE Foundation
Foundation for Public Administration
Feminism UA
Foundation of Mercy and Health
Open Society Foundation
Open Dialogue Foundation
Kharkiv Regional Foundation "Public Alternative"
Khmelnytsky Region CSO "Podilsk Centre "Gender Council"
Kharkiv Anti-Corruption Center
Centre for Global Studies "Strategy XXI"
Centre for Research of Liberation Movement
Centre of Political and Legal Reforms
ZMINA Human Rights Centre
Anti-Corruption Center
Center of Religious Science Research and International Spiritual Relations
Center for Liberal Modernity
Local Development and Reforms Center
Der Zentralverband der Ukrainer in Deutschland (ZVUD)
Direct Initiative International Centre for Ukraine
Lviv HR Solutions
Fulcrum UA
Synthesis Support Services
Save Dnipro
One Philosophy

Signatories in an individual capacity:
Attorney Belous
Attorney S. Shutyak
Verkhovna Rada of Ukraine – People's Deputy of Ukraine Mykyta Poturaev
Citizen O. Ilyasevich-Bogorodova
People's Deputy of Ukraine Mykita Poturayev
Head of the Street Infrastructure Department of the City Mobility and Street Infrastructure Department of the Lviv City Council K. Novikov
Citizen S. Dovgan
If you want to join the list of signatories to this appeal, please fill out the following form.