Statement with regard to the court hearings in so-called "Hizb ut-Tahrir case" against Crimean Tatars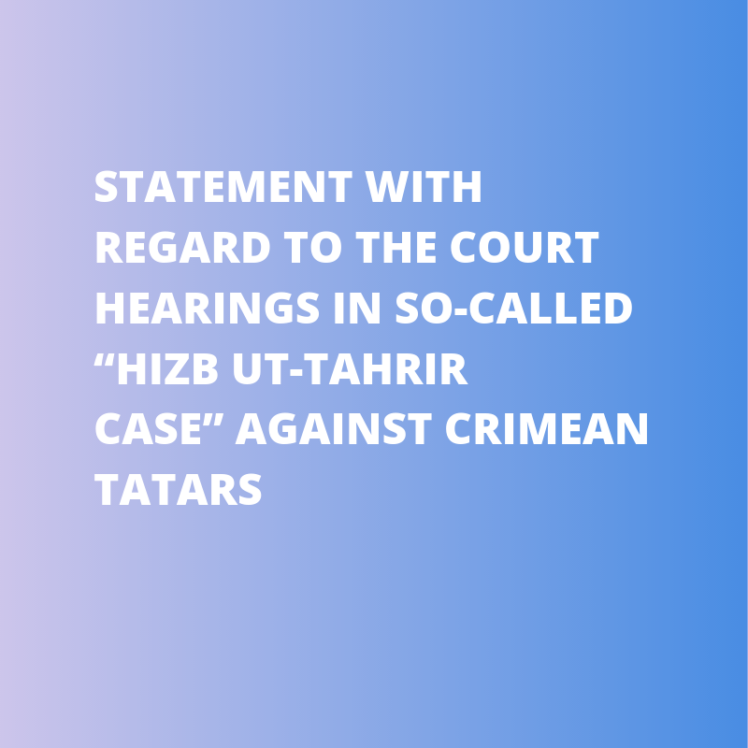 On 11 July 2019 Russian Supreme Court in Moscow will held hearings in case against 4
Crimean Tatars, citizens of Ukraine, accused of terrorism activity. On 24 December 2018 the
first-instance court in Rostov sentenced Enver Mamutov – an activist, who provided assistance to
the relatives of political prisoners, to 17 years of imprisonment; Rustem Abiltarov, Zevri
Abseitov and Remzi Memetov to 9 years of imprisonment.
We consider this case to be a politcally-motivated persecution exercised by the occupying
authorities against disloyal individuals.
Additionally, today, on 10 July 2019, seven Crimean Tatars were apprehended by police during
their picket against the persecution of Crimean Tatars under terrorism charges.
In the light of the above-mentioned we ask diplomatic missions, representatives of foreign
governments and international/regional organisations:
● To visit court hearings (Supreme Court of the Russian Federation, 12 Small
Kharitonyevsky lane, Moscow) which will take place on 11 July 2019 at 09.30 a.m. to
support Ukrainian political prisoners and to witness the arbitrariness and denial of justice.
We ask international organizations and foreign governments:
● To continue putting pressure on the Russia's government to stop persecution of Crimean
Tatars and, in particular, activists of Crimean Solidarity movement;
● To condemn the use by Russia of its own "anti-terrorism and anti-extremism" legislation
for prosecuting human rights defenders and civil society activists in the occupied Crimea.
● To impose personal sanctions on persons involved into gross violations of human rights
in the occupied Crimea.
● To strengthen sectoral sanctions against the Russian Federation for systematic gross
violations of human rights and war crimes committed in the occupied Crimea.
We demand the authorities of the Russian Federation:
● To immediately release detained Crimean Tatars.
● To conduct prompt, effective, and impartial investigation of unlawful detentions and
instances of physical violence committed against activists in Crimea.
● To ensure that the perpetrators are brought to justice.
● To take all the necessary measures to prevent such attacks in the future.
Detailed information:
Four Crimean Tatars were apprehended by the Russian Occupying authorities in Crimea on 12
May 2016. They were accused of organising of (participating in) activities of Hizb ut-Tahrir
religious organisation declared as a terrorist one by the Russian Federation (Article 205.5. of the
Russian Criminal Code) as well as of preparations for the violent seizure of power by an
organised group under a preliminary conspiracy (Articles 35.2; 30.1; 278 of the Russian
Criminal Code). According to the Ukrainian legislation, Hizb ut-Tahrir's activity is legitimate.
Within two years they were held in SIZO in Simferopol.
The first-instance court based its judgment on information provided by secret witnesses,
expertise provided by biased experts and false evidence.
During the last court hearings Enver Mamutov made a statement: "What is happening to me and
the entire Crimean Tatar community, Crimean Muslims is politically motivated persecution for
dissent. Previously, they fought dissent under the pretext of war with the enemies of the people.
Today they use terrorism and extremism as justification, but as before, the accusations are based
on blackmail, false experts, false witnesses, fabrication of evidence and the misinterpretation of
the words of the defendants".
Association of relatives of political prisoners of the Kremlin
Center for Civil Liberties
Crimean Human Rights Group
CrimeaSOS
Human Rights Center ZMINA
Media Initiative for Human Rights
Regional Center for Human Rights
Ukrainian Helsinki Human Rights Union